Essential Oils for Headache Relief– Headaches are awful. We've all had them (if you say you haven't, I don't believe you).
Whether you suffer from short term tension headaches when the stress levels are high, or you're an unlucky person that experiences major debilitating migraines- both interfere with our day and leave us feeling pretty bad!
Personally, I'm not a pill-taker. Advil and similar products work great, but I just have an aversion to swallowing pills (anyone else feel that way?) When a tension headache takes over my afternoon, my first defense is to take a nap in a dark room and sleep it off- but that's not always possible (especially at work. Bosses tend to frown upon mid-day naps).
So my next go-to for headache survival is to reach for some essential oils.
Used topically, specific essential oils can be rubbed into areas of stress and tension, such as temples, forehead, the back of the neck, and reflex areas on the hands and feet, for relief.
You can apply these directly from the bottle, or make a pre-mixed blend kept in a Rollon applicator bottle to swipe on whenever a headache begins to surface. (If you have sensitive skin, be sure to dilute your oils before applying them to your skin).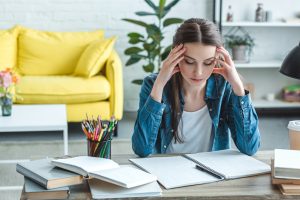 The following Essential Oils are wonderful for headache relief:
How to Use
My go-to blend is 2 drops each of peppermint, lavender and frankincense applied to my temples (where I feel my tension headaches the most). If I don't have all three, Peppermint is my favorite.
You can apply it topically or use it aromatically by simply breathing deeply over the bottle for instant relief! We love using Essential oils for headache relief and we hope you get the same effect, too! 
---
Let us know if you make this recipe or any others from our blog!
Looking for the best essential oils? Check out our website for the best essential oils and organic essential oils for crafting, soap making, candle making, and more! 
Bulk Apothecary makes no claims of "expert status" and the company will not be liable for any losses, injuries, or damages from the use of the information found on this website.
As with all products, users should test a small amount prior to normal extended use. If pregnant or suffering from illness, consult a doctor before use.