Meet Ashley Guinn Natural Nana
At Bulk Apothecary, we take immense pride in supporting and showcasing the brilliant makers we supply products for. Each month, we shine a spotlight on one of these creative souls, sharing their inspiring journey with the world.
This month, we're thrilled to introduce you to Ashley Guinn, owner of Natural Nana, an extraordinary talent in the maker community. Ashley's passion for creating high quality products has left us in awe, and we can't wait to share her story with you!
Natural Nana is an all-natural, hand-crafted beauty and wellness brand specializing in African personal care products with a purpose: to provide simple, effective plant-based formulas gentle enough for the whole family and made with integrity. Natural Nana's mission is transform healthcare into self-care by empowering families to start their healing in the home. We asked the owner Ashley to share more about herself and her brand. 
Ashley, we are so excited to showcase you this month. Can you tell us a little bit about yourself?
My name is Ashley Guinn. I'm a native Californian with roots in Alabama. I'm the founder and CEO of Natural Nana, a health and beauty brand specializing in all-natural African self-care products. I'm in charge of all U.S. operations, including but not limited to research and development, imports and supply chain management. As of December 2022, I am no longer a full-time entrepreneur. I'm now splitting my time between my business and working in the public sector as an eligibility worker for the Los Angeles County Department of Public Social Services. Previously, I served as an intermediate typist clerk for the Department of Children and Family Services and a senior typist clerk for the Department of Parks and Recreation of Los Angeles County. I served the County for 5 years before parting ways in 2016 to pursue my educational and business goals. I received an associate degree from Santa Monica College in Global Studies in 2016. That same year I received the Blue and Gold Scholarship from University of California Los Angeles, where I received a bachelor's degree in International Development in 2018. In 2017, I was named the "2017 World Trade Week Global Trade Scholar" by the Los Angeles Chamber of Commerce. I'm also a holistic wellness coach, having received my certification as an Emerald Green holistic health and wellness coach from the Queen Afua Wellness Institute in 2021.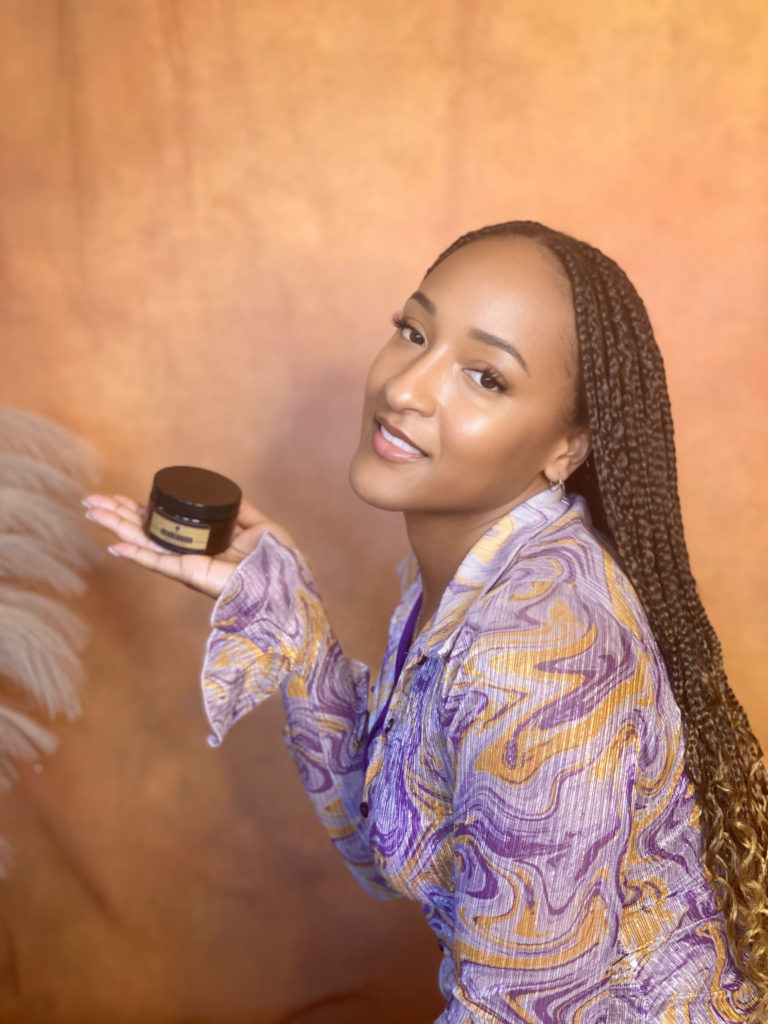 What inspired you to start creating and selling your products?
I struggled with acne until my mid-twenties ,and I didn't begin to see results until I switched to all-natural African skincare products. I bought my first black soap from eBay and raw shea butter from a local beauty supply. My skin started clearing up after a couple of months and I was sold! During undergrad at UCLA, I had the opportunity to study abroad at the University of Ghana, Legon. I picked Ghana out of curiosity about the country's history, but I was also interested in seeing where these magical products I've been using come from. I actually was enjoying myself too much to look into shea butter when I first arrived. But the universe brought me back to my purpose and I was assigned a research project on one of Ghana's top agricultural exports: shea butter. The project provided me with the unique opportunity to do research on the ground for the shea industry. Little did I know I'd have a transformative experience that would inspire me to start selling shea butter myself. Researching shea as a crop helped me understand that the production of shea butter is not only environmentally sustainable, but a vital source of employment for many women in the rural northern regions of Ghana. This is important for poverty alleviation and economic growth as the north is less developed and has less employment opportunities available than the more developed southern regions, like Accra. By providing jobs, the industry empowers women socially and financially, and allows them to support their families and the growth of their communities. Witnessing the positive impact of the shea industry on the lives of these women and the broader community ignited a sense of purpose within me. I felt a strong desire to contribute to the sustainable growth of this industry while honoring its heritage and benefiting the people who've dedicated their lives to it. My time in Ghana taught me that business could be a powerful tool for social and economic development, and I was eager to be a part of that process. With this inspiration, I decided to venture into creating and selling my own shea-based products. I aim not only to offer high-quality, plant-based products, but also to build a business model that supports fair trade practices, empowers women in local communities, and supports environmental sustainability. Additionally, my family also contributed to my start as a health and beauty entrepreneur. It was my brother's need for a nutrient-rich oil with essential fatty acids for his fitness clientele that prompted my research into black cumin seed oil, now our flagship product. And after I returned from Ghana, I gifted raw shea butter and black soap to my family and friends. I was just being generous with the hope that they would love these items as much as I did. They were aware of the effort it took for me to get these goods and they insisted on compensating me and urged me to put together a price list. Then, once I started selling the shea, my family provided me with feedback that led to me experimenting with our beloved whipped shea butter with a variety of scents. 
What do you love most about creating your products?
What I love most about creating my own products is when I get confirmation from customers that our products are actually working. Hearing and reading testimonials and seeing the results gives me reassurance that I've found my purpose in life. When I started the company, one of the main goals was to provide pure and effective all-natural beauty and wellness products. When I get confirmation that I've done just that, I become overwhelmed with joy and fulfillment.
What is your personal favorite product you have created?
I'm obsessed with our black seed oil. The pureness and simplicity of it really speaks to me as someone who likes my products as natural as possible. And even in its simplicity, it's amazing how much it can do for both health and beauty. I use it for a variety of things from boosting energy, wound healing, alleviating pain from menstrual cramps, COVID and just as an overall daily wellness shot for my immune system. The best part, my skin and hair have been flourishing since I started taking it. It's just an amazing product to keep in the house. And as an aspiring minimalist, I love that I can use one product for such a wide range of cosmetic and medicinal needs.
What is your favorite Bulk Apothecary product and how do you use it in your business? 
Bulk Apothecary's sweet almond oil is indeed my favorite product and serves as an indispensable component in my business. Sweet almond oil has a lightweight texture and rich nutrient content that's perfect as the main carrier oil in our hair and body products. We leverage its unique properties by using it to create our beloved whipped shea butter and hair and skin almond oils.
What was your inspiration behind the name of your company?
I came up with the name 'Natural Nana' while reflecting on my time in Ghana. I was inspired by three key aspects: the Ghanaian people's interdependent relationship with nature, their inherent natural beauty, and their royal heritage. The word 'Nana' is a title for many names in the Ashanti region and an indication of royal or high-ranking status. 'Nana' was chosen as a tribute to their royal lineage and to add a regal touch to the brand's identity. Natural Nana is a celebration of interconnectedness, the inherent wisdom of nature, and the royal history of the Ghanaian people. We aspire to encapsulate all of this in our products, offering the essentials for majestic health and beauty, carefully crafted with love, respect and reverence.
What is your favorite part of the creative process? Least favorite?
The most satisfying part of the creative process is seeing the products transformation. I love seeing the black seeds turn into oil, the solid black soap to a bronze liquid, and the hard shea butter to an air-light whipped cream that looks edible. For me, this is the best part of being a creator. Like, I made this. It's a wonderful feeling. My least favorite part is the clean up afterwards. Most of our products are hand-crafted, so they each go through their own production process. After working anywhere from 8-12 hours on production and packaging, the last thing I want to do is dismantle and reassemble machines for cleaning. But it must be done, and I've learned to limit the different types of products I make in a day to make clean up easier at the end.
From where do you draw your inspiration to create your products?
My inspiration for creating plant-based health and beauty products stems from my strong belief that nature is the best way to nurture the body. From skincare to haircare to internal wellness, nature has the answer for every concern. I've witnessed this myself while going through my own health and skin issues. For me, nature was the way. Nature is the way and always will be. People have been using black seed oil, shea butter, black soap, almond oil and black castor oil for centuries for the same concerns we face today. Knowing that inspires me to continue using what God has provided to share my gift with the world. Another huge inspiration is my grandmother, Atha Lee Brown. When I was a little girl, she would come visit from Alabama with my grandad. She'd be in the kitchen for hours, with me there beside her, helping to whip up homemade cakes that she would sell to my mom's co-workers. My favorite part was making the icing. The first step was to whip a stick of butter into a fluffy white consistency before adding the other ingredients. Ironically, this is the exact same way I start when making our famous whipped shea butter. Now, every time before I make whipped shea, I think of her. I know she would be proud.
What values does your business embody?
At the heart of Natural Nana, our guiding principles are integrity, quality, and social impact. Integrity is the foundation of our operations, ensuring we uphold the highest ethical standards in all our actions, from sourcing to production, demonstrating our commitment to honesty and transparency. We guarantee the highest quality available due to our firm insistence on the finest ingredients and meticulous crafting processes to offer our customers the best products on the market. We are devoted to making a social impact through job creation, sustainable sourcing, fair-trade and giving back to communities in need. We are also proud donors of Ghanaian non-profit organizations Little Tokens Foundation and Help Educate the African Child (HETAC).
What is one piece of advice that has helped you in your business?
The best advice I received and found super helpful is to focus on solving real problems for my customers. Some people may buy from me because they know me, or a friend recommended me. But when I show people that my products really work and bring results, that's when I notice a boost in sales. Everyone wants solutions to their problems, so if I continue to offer that, I'll stay relevant and in demand.
What are some of the biggest challenges you and your business face?
Marketing and maintaining consistency on social media have been the biggest challenges my business and I face. I feel that not having a huge marketing budget doesn't allow me to fairly compete with other brands. It does force me to be more creative, but mentally, it's a struggle for me to assign time to learn and successfully execute marketing and content strategies. Since the start of the company, I've improvised and taken on those duties that I can't afford to outsource just yet. The fact that social media is now the primary method of marketing, it doesn't help that I get burnt out on it so often and fail to maintain consistency.
Do you have any words of wisdom to offer any aspiring makers?
Find and pursue your passion by investing time in self-discovery and identifying what you love and what warms your heart. Embrace your uniqueness. And always stay true to yourself and your vision.
Before we go, can you share with us how others can best check out more of you and your work?
If you're in the Los Angeles area, you can shop for Natural Nana products in store at Florence Fresh 3124 W Florence Ave. You can shop online on our website: website: www.naturalnanaco.com. To connect with us on social media you can reach us at @naturalnanaco on Instagram, Facebook, Pinterest, Twitter and Threads or @naturalnanallc on TikTok.