DIY Festive Flatware Bags– Bulk Apothecary has so many items that I use all of the time. From coconut oil to soap base, to vitamins (seriously, they have everything!), I have an ongoing list of repeat orders. One of those items happens to be their burlap bags.
I LOVE them!
I use them for soap packaging, for treat bags, for potpourri sachets…the list goes on. Today I'm getting a little crafty with them. I recently saw a similar idea on Pinterest (courtesy of A Night Owl) and thought they were adorable! With burlap bags on hand, I figured I'd make my holiday table setting a little more festive!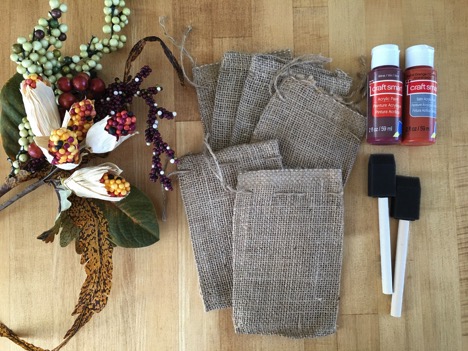 You'll need:
4×6 Burlap Bags
Acrylic Paint (I used 2 colors)
Sponge Tip Paint Brushes
Directions:
Now, you can get SUPER creative with this idea! From stenciling, to stamping, to having your kids handprints, to simply writing the name of each guest…the possibilities are endless and can be adjusted for different holidays (how about a Christmas Tree stamp if you're hosting Christmas dinner?!).
Today I'm simply adding color blocks to each bag. Easy, right?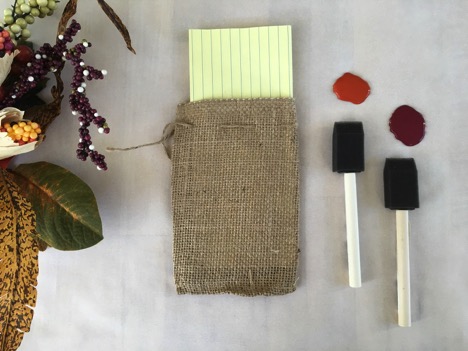 Before you start, make sure to cover your workspace. I taped a piece of parchment paper over the part of my countertop that I was working on. You'll also need to place a piece of paper in each bag. This will prevent the paint from bleeding through to the backside and sticking the two sides together as the paint dries. I just used some notebook paper.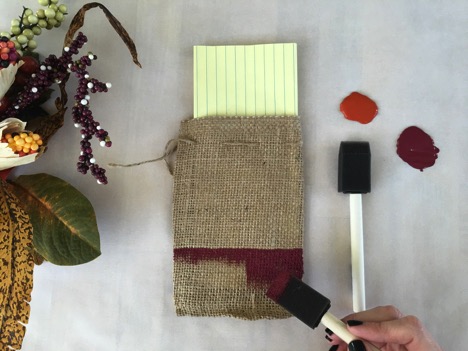 Decide where you'll be starting your first color block and begin to paint, covering all of the burlap fabric in that area.
Repeat the painting with the second color and allow the bag to dry completely before slipping the paper out.
Repeat these steps for each bag making sure that you have one bag for each place setting at your table. Tuck a napkin and silverware in each bag and pull the drawstring to secure the contents.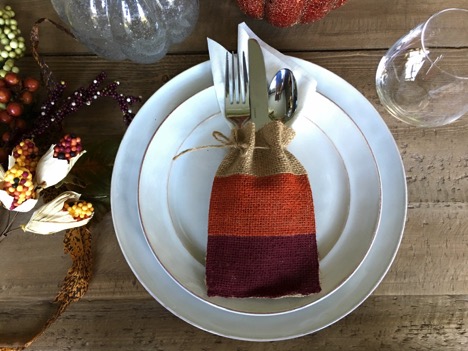 Place one bag at each place setting and that's it! With just a few supplies and a few minutes of work, your holiday table will look festive and perfect!
Have fun! Get creative! Enjoy!
---