Holiday Fragrance Simmer– This time of year is full of wonderful things. Family, friends, food, shopping, decorating, and get-togethers! Just to name a few…
With the house decked out for the festive season and friends and family traveling from near and far to visit, my home has to be ready for impromptu gatherings- at all times.
An easy way to instantly make your home holiday-ready is to fill it with fragrance. Holiday simmer kits are easy to assemble and perfect to have on hand this time of year. When the doorbell rings, you can toss the contents in a saucepan of water and instantly flood your home with warm, inviting scents of the season!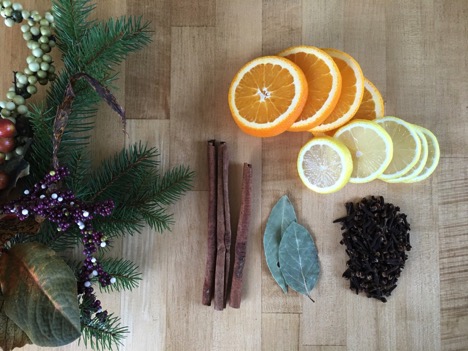 You'll need:
3-4 Bay Leaves
4 TBS Whole Cloves
1 Lemon
1 Orange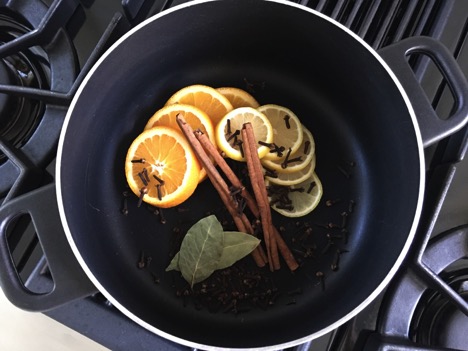 Directions:
After slicing the lemon and orange, place all of the ingredients in a saucepan.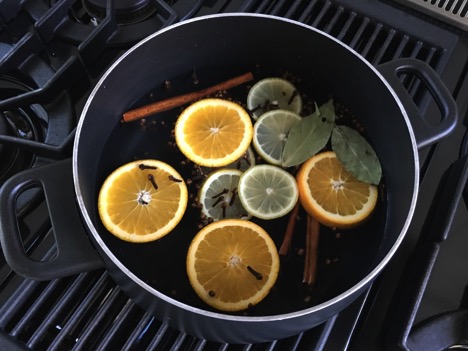 Cover the ingredients with water (I usually start with about 6 cups). Bring the water to a boil and then reduce the heat to a simmer. Leave simmering on your stovetop, adding additional water as needed depending on how long you leave it simmering, and enjoy!
In no time your home will smell divine!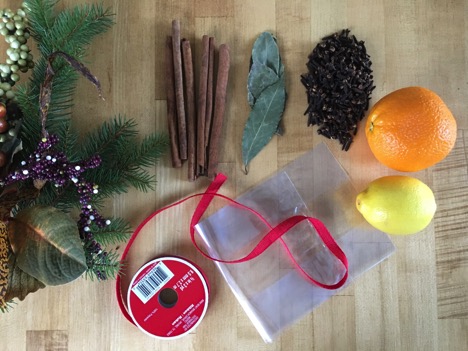 Another great way to use a fragrance simmer kit is to package it for gifting. When your guests comment on how wonderfully your home smells, send them off with a kit of their own!
When making the kit as a gift, use a clear cello bag (so the recipient can see all of the pretty ingredients) and finish it with ribbon. Leave the orange and lemon whole and include directions on how to use the kit. You could even double or tipple the ingredients so that they receive a few simmers in one bag (just to be sure specify on the instructions that they need to divide the contents!).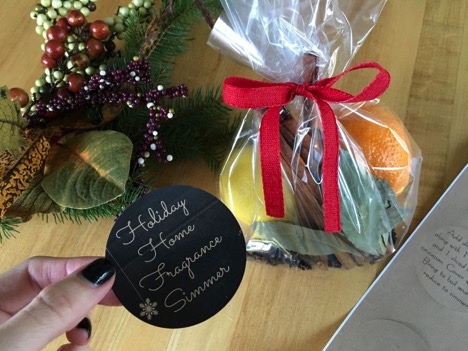 Make a pretty tag to finish the gift! I printed these from my computer using round brown kraft labels.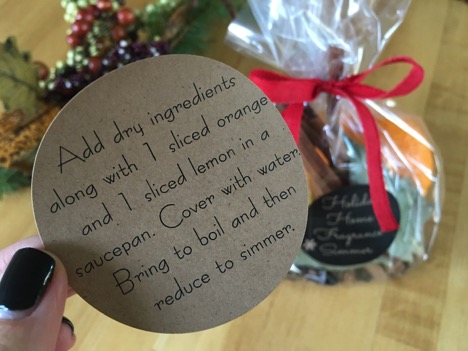 I also printed the directions on a kraft label to place on the back on the bag. These simmer kits turned out so adorable!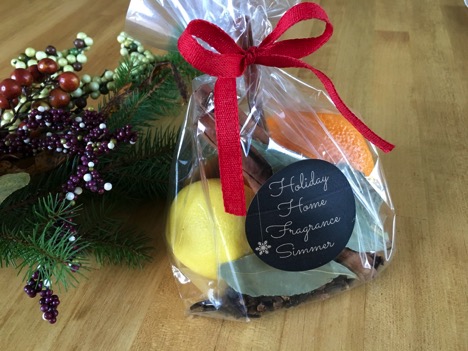 Additional Info:
When I use a fragrance simmer in my home I have a few ways to vary the recipe for each holiday.
For Thanksgiving: Replace the water with Apple Juice. This will alter the scent giving it a nice hint of apple pie.
For Christmas: Replace the water with cranberry juice. Add 1 cup of cranberries and a sprig of pine (I just snip a small piece from one of the trees in my yard).
---
Bulk Apothecary makes no claims of "expert status" and the company will not be liable for any losses, injuries, or damages from the use of the information found on this website.
As with all products, users should test a small amount prior to normal extended use. If pregnant or suffering from illness, consult a doctor before use.