Whatever your experience may be, in these cold months we're all looking for a solution to ease the discomfort of dry skin and return it to its soft, silky form. There is a variety of over the counter solutions available, but making your own ultra-moisturizing, Creamy Body Butter is so easy!
This recipe contains simple ingredients that will leave your skin feeling soft, silky, and hydrated- even in the coldest months. It's coming together in no time and is sure to be a favorite!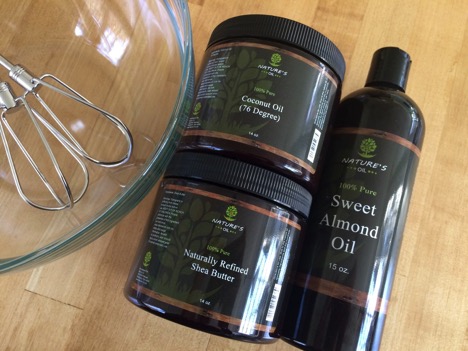 Ingredients: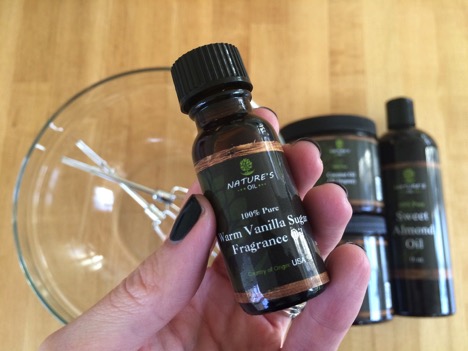 Another option to make your body butter even better is to add fragrance. This isn't necessary as the body butter is amazing on its own, but adding a little fragrance oil or essential oil will leave your skin smelling as great as it will feel. For mine, I used Warm Vanilla Sugar. I love this fragrance in the winter because it's a cozy and comforting scent without being overpowering. You can use whatever scent sounds good to you!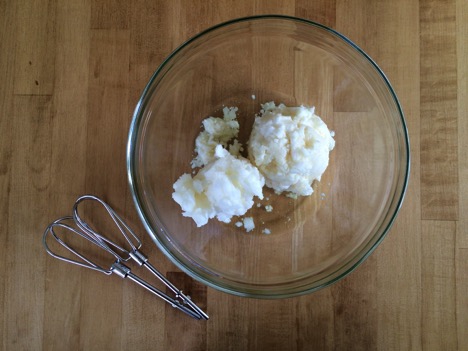 Directions
Begin by combining the shea butter, coconut oil,  and sweet almond oil in a heat-safe bowl.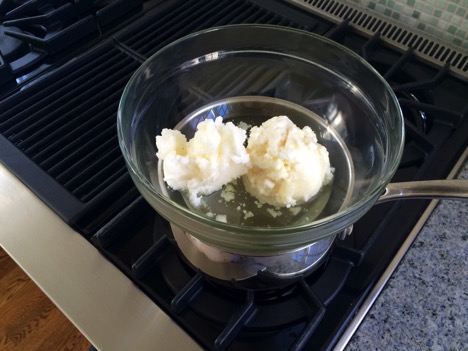 Place the bowl over a double boiler or similar set up (like I did here: the bowl is placed over a saucepan with about 2 inches of water in the bottom). Heat the ingredients slowly over medium-low heat.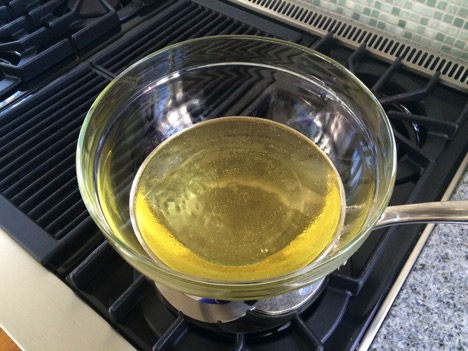 Stirring occasionally, the mixture will slowly melt together. When all traces of individual ingredients (lumps of coconut oil or shea butter) have dissolved, the mixture is done.
Carefully remove the bowl from the heat and allow to cool slightly (10 minutes). Stir in the fragrance oil. I used 2 teaspoons of the Warm Vanilla Sugar fragrance oil for a lightly scented lotion. If you're planning on adding in a little vitamin E oil, you would do that at this time as well.
Place the bowl in the freezer for 15 to 20 minutes. The mixture should begin to solidify, but not be completely frozen.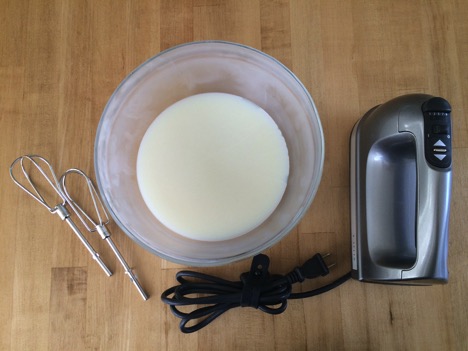 Using an electric mixer (I just use my hand mixer), whip the chilled mixture until light and fluffy. Don't worry, it will fluff right up!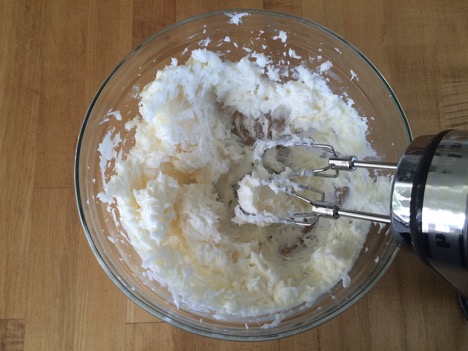 See?! Light, fluffy and silky in texture! It will look like a big bowl of buttercream frosting when it's done.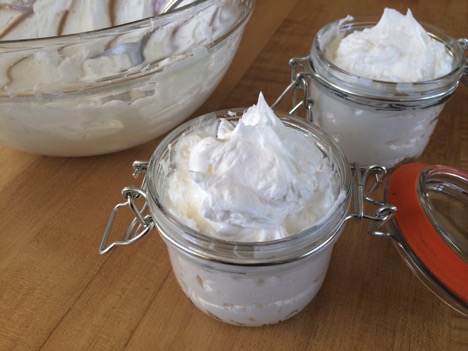 Scoop the creamy body butter into jars with sealable lids (I love the mini Hermes jars) and you're done!
Wasn't that easy? It's so simple to make products at home that rival store-bought items. And the best part is that you know exactly what ingredients your products contain! No harsh or harmful chemicals here!
This Creamy Body Butter recipe filled two jars with a little leftover. Feel free to double the batch to share with friends or to keep your skin hydrated all winter long!
---
Let us know if you try out this recipe or any others from our blog!
Looking for the best soap making supplies? Check out our website for melt and pour bases, molds, fragrance oils, butters, waxes, and more!
Bulk Apothecary is the best supplier of all things soap making! 
Bulk Apothecary makes no claims of "expert status" and the company will not be liable for any losses, injuries, or damages from the use of the information found on this website.
As with all products, users should test a small amount prior to normal extended use. If pregnant or suffering from illness, consult a doctor before use.