DIY Loofah Soap
We love this all-natural, DIY loofah soap that is more hygenic and won't take years to degrade in a landfill. 
A biodegradable version of the trusty shower loofah? Sign us up!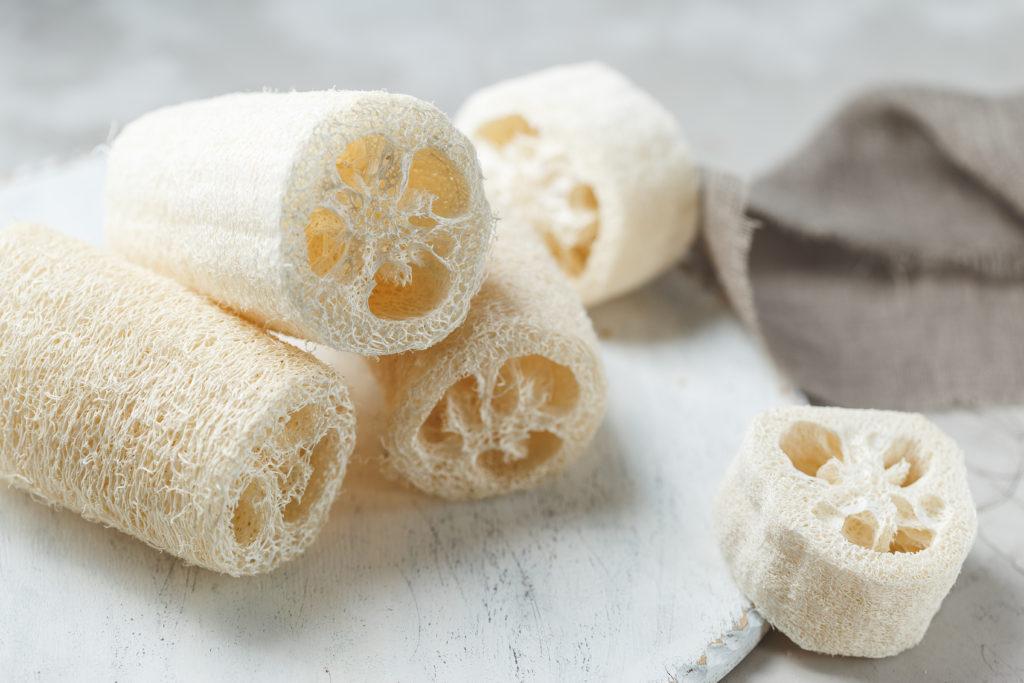 What to Do
First, cut your melt and pour block into more manageable cubes and place in a microwave safe bowl. 
Heat for up to 2.5 minutes on high. Remove and stir. Heat in 30 second increments until no chunks remain. 
We added a little bit of an all-natural soap color block but you can skip that step if you'd like! 
Next, or while soap is melting, take a pair of scissors or sharp knife and cut luffa sponge into pieces that will fit in mold. 
With one sponge, you should get about 6 slices of luffa. Place these in each mold well at the bottom. 
Once soap is thoroughly melted, you can add some essential oils or fragrance oil. We used about 10 drops of Peppermint and 5 drops of Eucalyptus essential oil to get our desired smell. 
If you'd like any additional moisturizing components, feel free to add in about a tablespoon of Shea Butter or Sweet Almond oil (or both). For extra lather, add a tablespoon of castor oil to get that luxurious, bubbly, foamy lather going on, too. 
Finally, after stirring, you can pour this mixture into the molds. If the luffa tries to pop up, push it back down with the spatula. 
Allow to set, overnight ideally, for at least two hours before removing from the molds. 
Then, allow them to sit at least 24 hours before use to complete the curing/hardening process. 
Enjoy!! 
Let us know if you try out this recipe or any others from our blog!
Looking for the best soap making supplies? Check out our website for melt and pour bases, molds, fragrance oils, butters, waxes, and more! 
Bulk Apothecary is the best supplier of all things soap making!
Bulk Apothecary makes no claims of "expert status" and the company will not be liable for any losses, injuries, or damages from the use of the information found on this website.
As with all products, users should test a small amount prior to normal extended use. If pregnant or suffering from illness, consult a doctor before use.