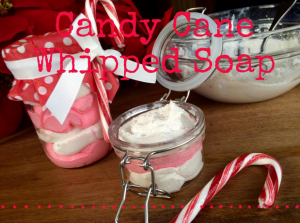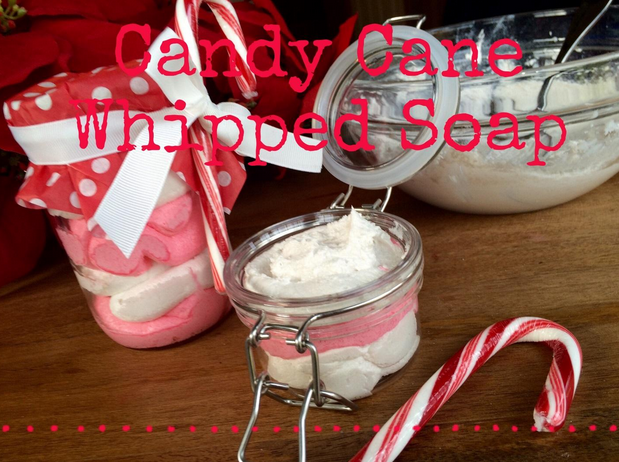 HoHoHo!
Christmas is almost here and if you haven't checked everyone off of your holiday gift list, why not whip them up a homemade goodie like jar of creamy soap? This recipe for whipped soap is quick and easy, smells like candycanes and looks oh-so-festive with layers of red and white!
You can easily double or triple the recipe and have enough to cover all of your last minute gifts- like teachers, neighbors, hairdressers…anyone who deserves a little something during the holiday season!
You'll Need:
2 cups Foaming Bath Butter, separated
2 TBS Coconut Oil
2 TBS Vitamin E Oil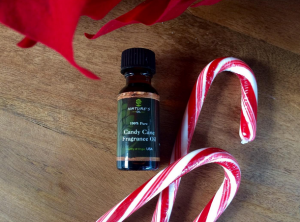 This fragrance oil is just perfect for the holidays. It smells EXACTLY like minty candycane. For my soap, I used 2 teaspoons in each mixture (two in red and two in white) which emptied the bottle. If you're doing the exact recipe that I've listed, you can use one small bottle and pour half of the oil in each color of soap. If you plan to double or triple the batch, make sure to get the larger bottle.
Begin by mixing each batch separately: 1 cup foaming bath butter, 1 TBS coconut oil and 1 TBS vitamin E oil. Using an electric mixer (I just used my hand mixer) beat the ingredients until light and fluffy- just like you're making frosting. Repeat the same process for the second batch of soap.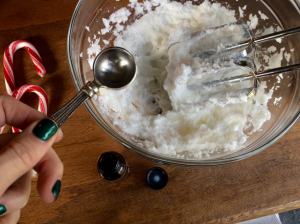 Add 2 teaspoons of fragrance oil to each batch and continue to blend with the mixer until the oil has been completely incorporated.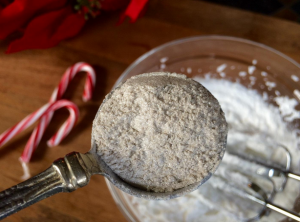 Now for the color! You have the option to leave the white soap as-is. It's pretty white on its own so it will be fine without any additional color, but if you want to intensify the white color a little, add a little white mica powder to the mixture and blend well. You can also use a sparkle mica to make it a little more festive!
Repeat this step for the red soap mixture using red mica powder. You can adjust how red your soap is by using more or less of the powder- just start with a small amount, blend it and add more until you reach the color you're looking for.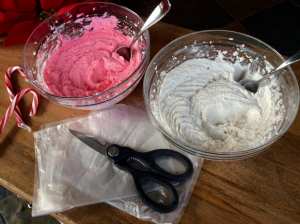 With the two soaps complete, it's time to package them up! For a large gift, I used a mason jar and for a smaller gift, I layered the soap in a mini heremes jar.
You'll need two plastic baggies and a pair of scissors. Just like frosting cupcakes, we're scooping the soap into a baggie and snipping a small opening at the corner to create a pastry bag. If you have pastry bags, use them! This is an easy way to make one if (like me) you don't have any on hand.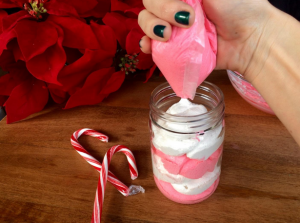 Carefully layer each soap mixture into your jars making red and white stripes. You can make the layers thin or thick, depending on what you prefer. Do a few layers, or a bunch of layers! Get creative! And don't forget to finish your packaging by printing out a cute label and tying each jar with a little Christmas ribbon!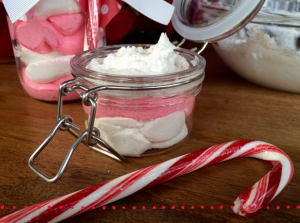 HAPPY HOLIDAYS!
Recipe: Candy Cane Whipped Soap