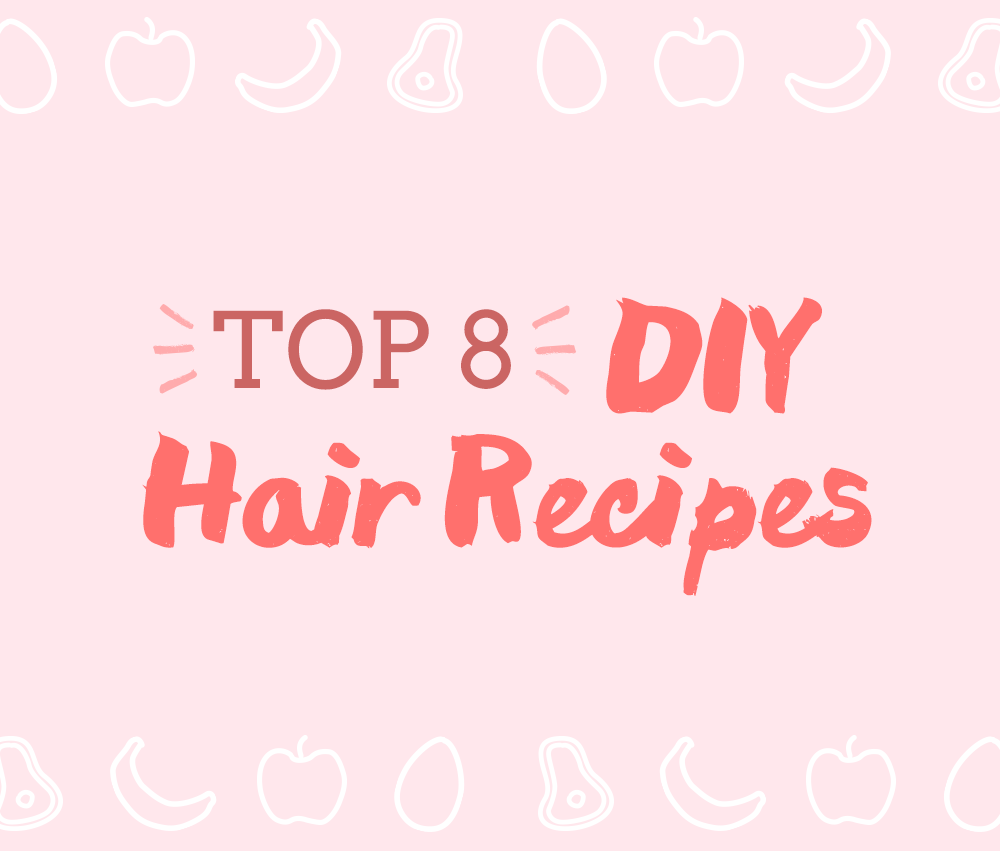 Top 8 DIY Hair Recipes
Whether you're looking for more inexpensive hair care alternative or you want to eliminate using harsh chemicals on your hair, you often don't have to look farther than your kitchen for natural do it yourself hair recipes. The healthy foods that you have in your pantry and kitchen that you eat for a healthy diet are also beneficial for your hair. Below are 8 easy, inexpensive DIY hair recipes that will give you shiny, strong, healthy hair.
Water and liquid castile soap shampoo. This simple DIY natural shampoo concoction was features on the Today show and is the creation of Jenny Strebe, the hair professional behind the popular website Confessions of a Hairstylist. The only ingredients are distilled water and unscented liquid castile soap. Adding drops of mint, lavender or rosemary will add a pleasant smell to the shampoo mixture. You can also tinker around adding other ingredients as well such as honey, aloe vera, or jojoba gel. Simply mix all the ingredients together, lather in your hair for a few minutes and rinse.
Yogurt, banana, or avocado conditioner. These ingredients are perfect bases for a DIY conditioner. Adding a few drops of either coconut oil or olive oil, a squeeze of honey and additional oils of your choice will give you a nourishing, tangle fighting conditioner.
Fresh strawberries hair mask. Strawberries, as well as lemons and other tart fruits are loaded with vitamin C which effectively fights oil scalps. Puree a handful of fresh strawberries, 1 table spoon of honey and 1 table spoon of coconut oil. Apply the mixture to damp hair, lather and rinse out.
   Egg hair mask. Loaded with protein, iron, calcium, potassium and vitamins A, B and D, eggs are great for nourishing healthy hair. This egg mask can benefit any hair type from dry hair to overly oil hair. Simply add 1-2 eggs (depending on hair length and thickness), 1 lemon, 2 table spoons of olive oil and 1 cup milk together. Apply the mixture to your hair (be sure to be in the shower or over a sink as the mix is runny). Cover your hair with a disposable shower cap and allow the mixture to stand in your hair for 15 minutes. Rinse out your hair with cold water, making sure to get rid of all the egg. You can follow-up the rinse with a natural, fruity shampoo to get rid of the egg smell.
   Avocado hair mask. This avocado mix is perfect for dry hair. Add 1 table spoon olive or almond oil, and ¼ cup milk to 1 finely pureed avocado. Apply to damp hair. Let the mixture soak for 15 minutes (cover your hair with a disposable shower cap for best results). Rinse out with warm water.
   Baking soda and apple cider vinegar shampoo and conditioner. Combining a tablespoon of baking soda and 1 cup of water makes for a great shampoo alternative. For conditioner, mix 1 cup of apple cider vinegar and one cup of filtered water to a spray bottle and spray onto freshly shampooed hair, then rinse.
   Sour cream or plain yogurt hair mask. Massage ½ a cup of either sour cream or plain yogurt to damp hair and soak for 20 minutes. Rinse with warm water followed by cold water.
   Dry cornstarch mixture. For a quick solution for oil hair, apply 1 tablespoon of cornstarch onto dry hair, getting down to the roots. After 10 minutes use a flat hairbrush and brush the cornstarch out.
   Beer hair mask. That's right, the popular beverage will do miracles for limp or fine hair. Combine ½ cup of flat beer, 1 teaspoon canola or sunflower oil, and a raw egg. Apply the mixture to damp hair, allow to soak for 15 minutes and rinse with cold water. You can also pour some of the beer only into a spray bottle and spritz onto dry hair.
Having shiny, soft, bouncy hair doesn't need to be expensive, nor does it mean you have to subject your hair to harsh chemicals that can do more harm than good. If you want to take your DIY health and beauty to the next level, Bulk Apothecary has soap and candle making kits as well as an extensive inventory of fresh herbs, oils and waxes. Contact us today and let us help you find what you need to achieve the health and beauty results you're looking for.