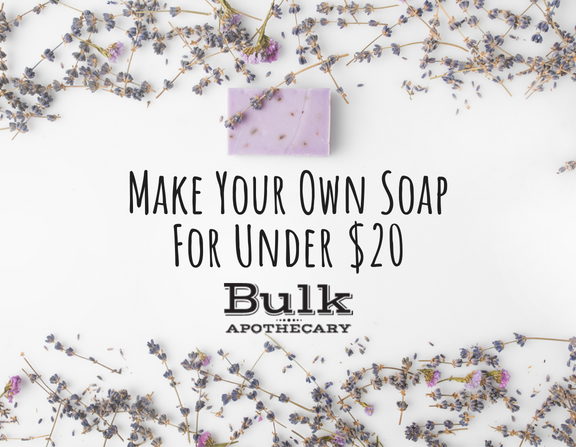 Soapmaking is such a rewarding hobby. Allowing you to express your artistic vision and create a product exactly the way you'd like it; soap makes a great gift option for family, friends, and even fundraisers. Some people may want to try their hand at soapmaking but it can seem overwhelming at first. Trust me, we've all been there. Here's the thing – you cannot fail because there will always be a demand for soap.* Whether your creation ends up being sold on a commercial scale or you make it for personal use, it is a practical craft that will not go to waste. *Unless you spill the soap all over the floor like I have… then that's a fail.
I was always fond of handmade soap, but had no clue how it was made. I knew it smelled better and lathered nicer than store-bought soap. Once I became part of the team here at Bulk, I began experimenting with our products and through much practice, patience, trial and error, I began to get the hang of this whole soaping thing. Keep in mind, I come from the car business – these products were all foreign to me. Never in my wildest dreams did I think I would end up being the one making handmade soap! I went from motor oil to sweet almond oil and I'm not complaining.
Today's recipe was created with beginners in mind. I chose these items because it is possible to try your hand at soapmaking without making a huge investment. For that reason, the subtotal of these items will come to under $20.00 when added to your shopping cart on our website. This recipe will yield approximately 4-6 bars of soap, depending how thick you choose to cut them.
Additional Supplies
Spray bottle with rubbing alcohol, kitchen knife, cutting board, Pyrex glass, spoon
Let's Get Started
Begin by unwrapping the block of soap base and proceed to chop into small cubes with a kitchen knife or soap cutter. Once the block has been cubed, place in a microwave safe container.
Since our color blocks are so highly pigmented, I only used about 1/8 of the color block to achieve a nice, subtle lavender hue. Place the color block slices into the cubed soap and microwave in 30-second bursts, stirring in between. When the soap has liquefied, remove from microwave and add fragrance oil. French Market is such a lovely scent, with mingling notes of tuberose, ylang ylang, lilac, vanilla and a touch of lavender, it's strong yet subtle scent composition smells of pure luxury. Using a thermometer, make sure the soap temperature ranges between 120°-140° F.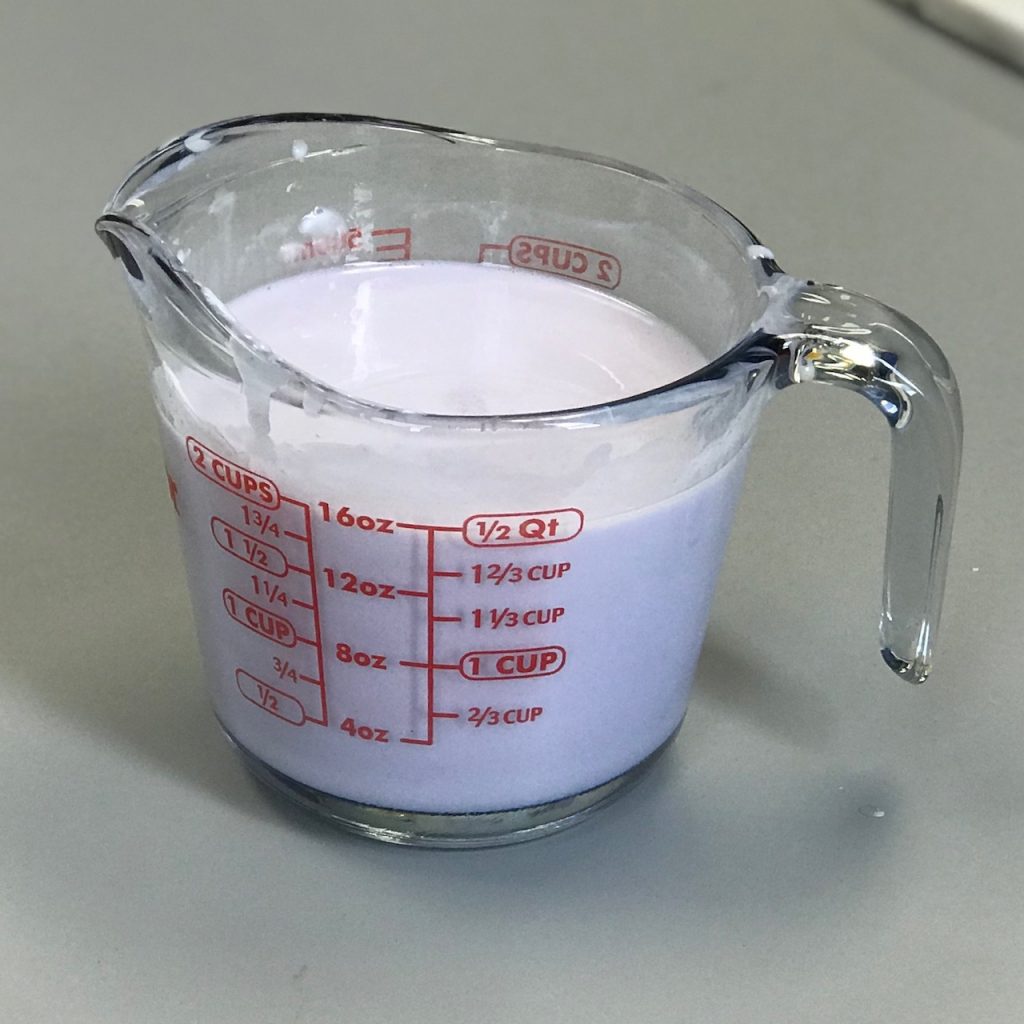 Here we go – it's time to pour! Gently pour the melted soap into the mold. I love this particular mold because I don't have to commit to a large batch of soap. It holds 20 oz. so 1 lb. of soap fills it just over 3/4 to the top. It's perfect for small batches and testing new recipes. Do you see all the little bubbles at the surface of the soap? That happened because I poured too fast and with too much force. Pro tip: Always keep a spray bottle of rubbing alcohol nearby, as a few quick spritzes will eliminate any bubbles or foam that have formed on top of the soap.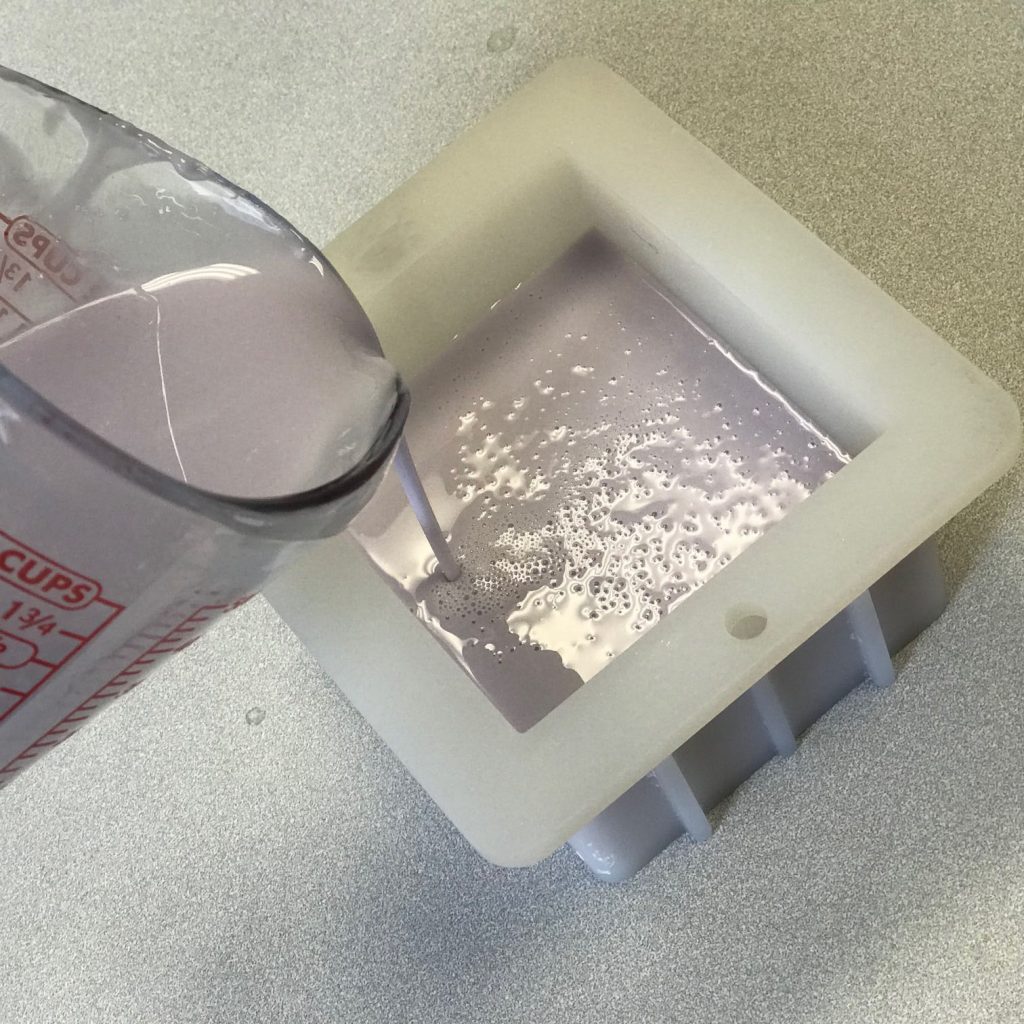 After pouring the soap and spraying rubbing alcohol, allow the soap to cool for at least six hours. Alternatively, pop the mold in the fridge to speed up the process. Side note: this may cause condensation to occur on the soap. Don't be alarmed – you can easily blot off the dew with a paper towel.
When the soap is cool and hardened, gently pull the sides of the mold away from the soap. You will be able to see the vacuum seal releasing as you pull apart. Flip the mold over on a clean, flat surface and gently push the soap completely out.
Using a soap cutter, slice the soap into individual bars to the size of your liking. You can either do 1″ bars, or even cut them smaller to make sample size bars to share your soaping success with your family!
When did you start your journey into soapmaking? Do you have any questions or comments? We'd love to hear your stories! Please share with us in the comments below!