Where to Sell Your Product
Finding a place to sell your handmade goods can seem overwhelming if you're not sure where to start. It's a no-brainer that one of the easiest ways to work from home is to create and sell your own products. Whether you decide to create your own website, sell from an established online platform or rent a booth at your local flea market, let's take a look at some of our favorite outlets to sell your handmade goods.
Etsy
Etsy is one of, if not the most popular platform to sell handmade goods. Here you will find crafters and Artisans with an endless offering of imaginative handcrafted products. From soap to greetings cards to scarves, you can find a little bit of everything on Etsy.
I've always loved to go "window shopping" on Etsy. (As a matter of fact, that's how my interest became piqued by handmade soap years ago!) It's a lot like Pinterest – one click leads to another and before you know it, you've spent an hour perusing through handmade goods from all over the world.
Setting up an Etsy shop is surprisingly easy and as you can see, it's got a very user-friendly dashboard. Being one of the most affordable online outlets, it is the prime choice for many handmade crafters. I highly encourage you to check it out for your business needs as well as to see what other people are making.
Shopify
Shopify is a fantastic choice for small businesses looking to sell their product online. Not only do you get a free 14-day trial period, but thereafter the platform's basic plan costs an affordable $29/month. Shopify offers many different shop themes to choose from, basic features and a user-friendly interface. There are also more costly plans available that include more shop functionality such as reporting tools, shipping discounts and the ability to ship through third parties. Check out their plans and pricing here to determine which would best suit your business needs.
Big Commerce
Big Commerce is one of our favorite platforms for online sales. Similar to Shopify, Big Commerce gives users a 15-day free trial. It is a wonderful selling platform because besides your standalone website, Big Commerce allows you to integrate your inventory to sell through numerous outlets such as Amazon, Facebook, eBay, Pinterest and Google! Talk about a one-stop shop, literally.
Basic membership has a monthly fee of $29.95 and three more tiered memberships offering tools like inventory management, the ability to integrate communication and live chat for your customers, allowing an outlet for customer reviews and even abandoned cart notifications. Check out their pricing plans here.
Boutiques & Rented Space
I've said it before and I will say it again – always get out, explore and shop other small businesses! Pay attention to your local shops. Not only does this support your fellow Artisans and small business owners, but it also gives you an indication as to what is selling – or what product of yours could potentially sell in their space. Some boutiques will allow you to sell your items as consignment – meaning you will get paid after the product sells and you will gather any remaining unsold merchandise at the end of the term. Other shops may take a certain percentage of sales, while other boutiques are more aimed towards exposure of local artists.
A friend of mine has recently taken some steps to transform her craft from hobby to business. She had been wanting to take this step for a while, and it was just by chance that a local yoga & meditation studio reached out via Facebook in search of crafters and small businesses whose work they can showcase and sell during the holiday season.
She signed the holiday season agreement and the shop owner enjoyed her and her handmade jewelry so much, she asked her to stay on board after the holidays are over! Case in point: you can sell your product in places you'd least expect.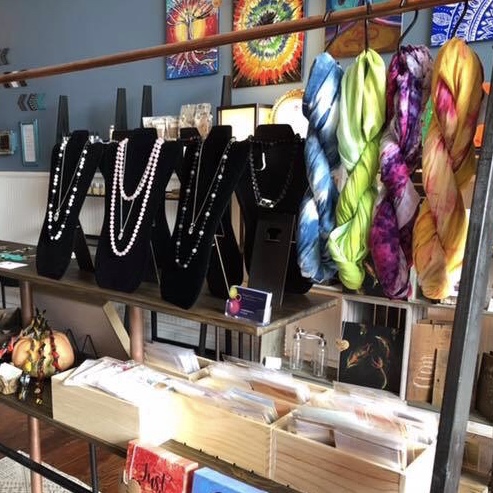 Farmers & Flea Markets
These types of markets are usually held on the weekends and limited daytime hours, so these are great for people with families and busy schedules. Many flea markets will allow you to have the same spot week in and week out if you choose to rent somewhere established indoors. Your continued presence will allow your customers to easily find your booth, thus setting yourself up for future business through customer retention.
Take the time to look for these markets in your area. Vendor space pricing and availability will always vary, so it's important to do some research, take some detailed notes and figure out which market would generate you the most return on investment.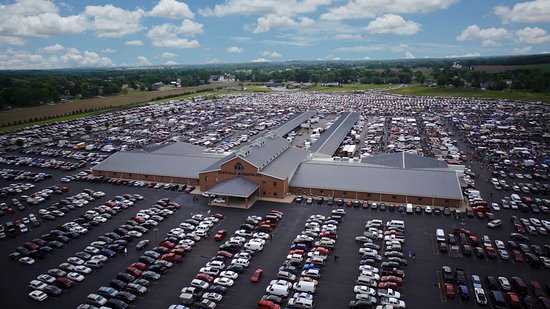 For example, one of the biggest and well-known flea markets local to us here in Northeast Ohio is the Hartville Flea Market. At this market, you are able to rent an outside 5' x 5' space for as little as $14.00 a day or pay a higher price to have indoor vendor space. For that price, it's worth it to even take a shot at selling even if you aren't fully prepared yet. 
Another advantage is that you get your name and face out in the community. Selling products online is a different ballgame because you are not experiencing face-t-face customer interactions. By approaching patrons with confidence, knowledge and kindness, you are able to really put a face to your brand which builds consumer confidence and trust.
Moving Forward
What are some other ideas you have for selling your handmade goods? There are so many more outlets and ways to sell a product. Have you ever thought about utilizing product demonstrations and tutorials to help drive sales, or perhaps a behind-the-scenes look at the production of your goods? In today's technologically-savvy times, it's easier than ever to spread the word about your offerings and promote your brand. Join us next week as we tap into some of the best ways to utilize social media to expand your brand presence and boost sales.