I have two words for you today: Pumpkin Pie. Okay, three. Pumpkin Pie Candles! 
Oh, how I love pumpkin pie. Mmm! 
Aside from all of the other fabulous things I love about fall, pumpkin pie sits at the very top of my list. Forget turkey and stuffing- I show up on Thanksgiving for the pie! Anyone else?
This recipe is EASY PEASY and will fill your home with the fragrances of homemade pumpkin pie- without the calories! The wax burns for hours so with just a few simple steps you can sit back and enjoy the fruits of your labor for days.
Let's make some candles!
You'll need: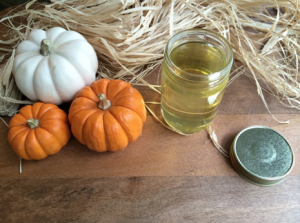 Directions:
Start by filling the jar to the very top with the wax flakes. You can heat this slowly by setting your oven on a low temp and placing the jar on a center rack, or by placing the jar in the microwave and heating it in short intervals. As the wax melts you'll need to add more flakes and melt, repeating this process until the jar is full of melted wax (as seen above).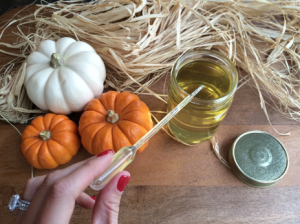 Carefully remove the jar of melted wax from the heat source using oven mitts (the jar will be HOT) and place it on a heat resistant surface. Add the fragrance oil to the melted wax using a pipette. Typically for this size candle, I add about 8-10 pipettes of fragrance oil (also, depending on the potency of the fragrance oil I'm using).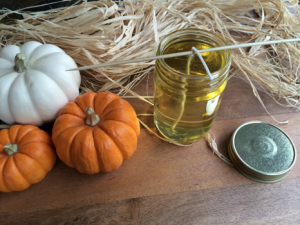 Position the wick in the center of the candle (with the metal disc touching the bottom of the jar) and fold over the wooden skewer to support the placement while the wax hardens. Allow the candle to cool and harden completely before use.
Once completely cool, snip the wick just above the candle wax, light, and enjoy!
Ps- these make great gifts!
---
Let us know if you try out this recipe or any others from our blog!
Looking for the best candle making supplies? Check out our website for candle wax, molds, wicks, fragrance oils, jars, and more!
Bulk Apothecary is the best supplier of all things candle making!
Bulk Apothecary makes no claims of "expert status" and the company will not be liable for any losses, injuries, or damages from the use of the information found on this website.
As with all products, users should test a small amount prior to normal extended use. If pregnant or suffering from illness, consult a doctor before use.