Coffee Cup Candles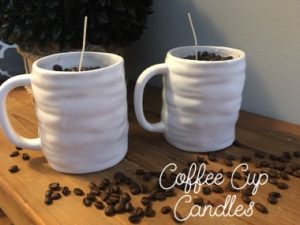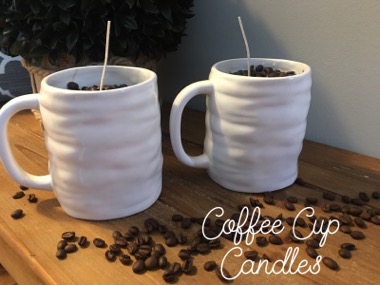 You might have seen those adorable candle mugs at the craft fair or online. Some are selling up to $25.00 for a small size mug.  Today I am going to show you how to make these adorable mugs at a fraction of the price. Look in your cabinets, do you see any mugs that you love, but just don't use anymore? We all have our go-to morning mug, am I right? Look for something that you wouldn't mind sitting on your counter or stove.  I found two that I bought and totally forgot about.  Those worked out just perfect!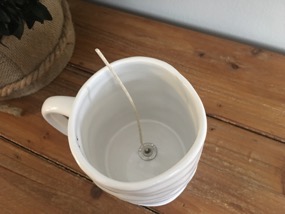 Mug  (I used a 16 oz)
Nature's Oil Golden Wax Akosoy 5702-00-77 1Lb
Nature's Oil Creamy Root Beer Float Fragrance Oil
Whole coffee beans ( I used vanilla beans)
Step 1:
Place the candle wick in the center of a clean mug.  I used a little dab of glue from a hot glue gun.  It worked perfectly, however if you prefer to not use glue, simply place wick in center of the mug and prop up using pencils or skewers along with tape. This method works just as well.
Step 2:
Using a microwave safe bowl begin melting the wax flakes. Start at 35 seconds intervals. For best results, only do a cup or two at a time. Re-melt if needed, only at 10 seconds intervals or until you hear the wax my pop.  You can also use the double boiler method if you prefer. Just make sure to stir every few minutes.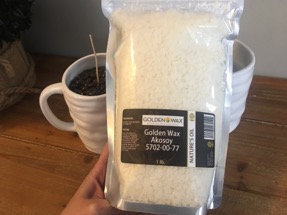 Step 3:
Add 5 drops/shakes of Nature's Oil Creamy Root Beer Float Fragrance Oil and 1/2 cup of whole coffee beans. I used vanilla beans. The combination together smells amazing!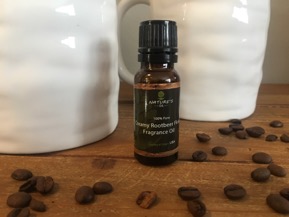 Step 4:
Slowly pour the hot wax mixture into the mug, avoiding the centered wick. Be careful not to move around the mug. Let set for 24 hours before using.
Step 5:
Trim the wick, light and enjoy your new coffee candle!
We would love to see your creations. Instagram and Twitter followers use hashtag #bulkapothecary. We can't wait to see what you created 🙂  Enjoy!
Coffee Cup Candle Recipe