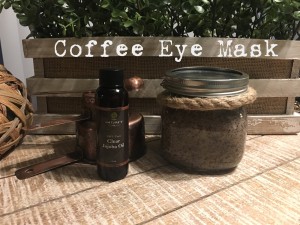 Between school, work and after school activities, this mama is tired. Can you relate? Last month I read an article about caffeine in your everyday beauty products. Caffeine has been known to help with the tightening of the skin. It's loaded with antioxidants. Those antioxidants may help fight many skin problems. What about that tired eye look? Products with caffeine in them can help minimize the appearance of tired puffy eyes, leaving your face feeling awake and refreshed in minutes. Today we'll be making an under-the-eye coffee mask. This scrub/mask uses coffee grounds and the texture isn't harsh like other scrubs, which is why it is perfect for the face.
I've been using this mask under my eyes for the last few weeks. I can honestly say my face feels amazing every morning. I actually look forward to it upon waking up.
Plus, it's very easy and can be made quickly! 🙂
Ingredients:
Coconut oil– 3 cups
¼ cup of your favorite coffee grounds (I used vanilla bean for the scent)
Clear jojoba oil– 1 tablespoon
Mason jar or mini heremes jar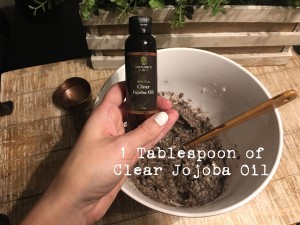 Directions:
In a large mixing bowl, hand whip to soften coconut oil until smooth. It's alright if some lumps remain. If your coconut oil is too hard, soften in the microwave at 5 second intervals. It should look like a soft/butter consistency. Add in the ¼ cup of coffee grounds. The finer the better. I used a vanilla bean favored ground so there's no need to add an additional scent. But, feel free to add your favorite essential oil if you have one on hand. Next, add 1 tablespoon of the clear Jojoba Oil. Stir the mixture with a spoon. The mixture should feel gritty but have a smoothing effect. Spoon into a mason jar or container.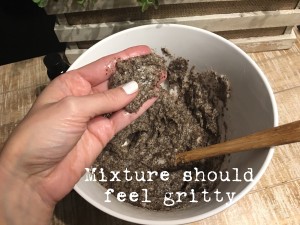 To Use:
Using a small spatula, spoon out about a tablespoon. Gently rub in a circular motion, ½ tablespoon under each eye, and leave on 3-5 minutes. You can use on your whole face if you'd like, but I just use under my eyes.
Rinse with cool water. You'll be ready to start your day with a pep your step. Enjoy the burst of energy before you even had your cup of coffee! 🙂
Coffee Eye Mask Recipe