It's early November, the snow is falling and you're being bombarded with the thought of gift-giving. You haven't even finished the Halloween candy and every commercial, billboard, and mailing Is suggesting the perfect gift for your mom, mailman and child's teacher. The problem is, your finances are tight and you're trying to start up a company, so what do you do?
The holiday season can be very stressful on your wallet. This year, why not make your gifts? Better yet, why not make your gifts with your company logo so people know what you're up to and have a fantastic product to use year-round. Being in the health and beauty industry, I say you can't go wrong with things like lip balm, lotion and body products. Many companies offer these products in bulk; like bottles, caps, and labels can be purchased at ridiculously low prices. Put together a small gift basket for everyone on your shopping lists and you can save yourself hundreds of dollars, plus everyone will feel special getting something that you put time and effort to make. Furthermore, you can decorate labels with your business' label. If you are starting a new company, or thinking about it, it is the perfect opportunity to announce your brand, get the word out and see how people like the product.
In the past, we've discussed starting your own bath and body product line. Sites like eBay and Etsy are great for people to test out sales and market their products at low costs. To start even smaller, you can make your product and send it out in gift bags over the holidays. This is truly living by the 'two birds, one stone' philosophy. You see, by giving the product out as gifts, the recipient can try the products, pass the word along to their friends and you don't have to bother spending extra cash on another gift.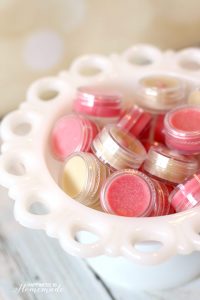 One more bit of advice. If you are starting your own bath and body product line, think about getting the products up and running online before the holiday season is over. More and more people are getting their holiday shopping done online. If you have a lip balm line or lotion products that you are selling, the holiday season is a perfect time to start. Specifically, those niche lines of items (i.e. the root beer flavored lip balm or the goldfish-inspired lotion). These items might not always have high sales during the year, but holiday time is when people are most likely to buy a niche or gag gift for that special someone in their life.
At Bulk Apothecary, we can help make a specialty product, like lip balm, that can, in turn, help you make some extra holiday cash. Purchase the unlabeled lip balm along with the blank label sheets, and you are ready to go! We even have specialty lotions in wholesale quantities. Just fill into empty bottles, slap a label on and you have the perfect gift that is just like the expensive product you would find at retail. Or, try your hand at candle making. EVERYONE loves candles, and you can save so much money making them yourself!
Be smart this year! Happy Holidays!
Bulk Apothecary is a full-service provider and industry leader of unscented lotion base and other unscented bases along with plastic bottles, lip balm and any other soap making supplies. We pride ourselves on offering the absolute best quality and best prices in the USA