Hello Bulkers,
The summer holidays are quickly approaching. Let's show our red, white and blue proud with this awesome recipe. Do you remember my Loofah recipe from a few months ago? We'll be using that, but with a fun twist. Today we will me making Red, White and Blue Loofah Lollipops . This fun and easy recipe will be a huge hit at your summer party. These soap lollipops make perfect end of year gifts for your fabulous teachers, party favors and so much more.
Ingredients:
All natural SFIC clear soap base– 3 lbs (3 blocks)
Large muffin pan or similar type mold
Soap color blocks– neon blue raspberry, titanium dioxide and brick red
Loofah– cut into 2 inch pieces
Fragrance oil– blue slushy, Dr. Pepper and candy concoction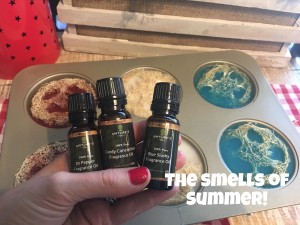 Instructions:
Cut and cube the 3lbs of SFIC clear soap base and divide into 3 separate bowls. We'll start with the red. Melt the first bowl of clear soap base with ½ block of the brick red color block. This soap base melts quickly. Microwave for 30 seconds and stir until the red block is completely blended. You may need an additional 10 seconds depending on your microwave. Add 10-15 drops of Dr. Pepper Fragrance Oil. (if you're a Dr. Pepper drinker you'll probably love this!)
Cut loofah loaf into 2 inch pieces and place into a large muffin tin. If you're having trouble fitting them into place, simply run under faucet to lightly dampen. Do not saturate with water. Pour the soap mixture into the first two pieces of loofah. You will be using 1lb of soap base per two pieces of loofah using a large muffin pan. Repeat step 1 and add Candy Concoction Fragrance Oil to the Titanium White and Blue Slushy Fragrance Oil to the Neon Blue Raspberry color blocks. ( I feel like I'm in a candy store!) fill the last 4 loofahs and let harden overnight.
Before removing place in refrigerator for 20 minutes for easy release. Once removed add a stick to make into lollipops. Cover with clear bag and add a matching ribbon.
How to use your lollipop loofah
Remove stick and discard
Wet the loofah with warm water to soften
Gently rub your skin in a circular motion
Enjoy your smooth skin 🙂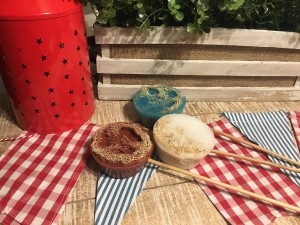 I hope you enjoy making these lollipops as much as we have!