Ladies, this one's for the boys (I can't help but hum the song Let's hear it for the boy while typing this. Haha! I actually contemplated starting this post out that way – it's just so catchy!). But for real- this one really IS for the guys in your life. I'm sure they appreciate all of the handmade soaps and candles you've been whipping up in your spare time (because who wouldn't?), but they're really going to appreciate this next recipe.
Fresh hops and cedarwood shaving soap.
You read that right- there are hops in it!! As in the kind of hops used in craft beer. That's ALL man right there. Can you imagine what a fabulous gift this will make for your hubby, boyfriend, dad, etc.?! I'm telling you, it will be a hit.
Hops leaves have a beautiful fragrance and contain some amazing antimicrobial and anti-inflammatory properties. Traditionally, hops plants were also used in medicinal herbal remedies (as well as in some wonderful beer recipes…which most people are more familiar with). As if using fresh hops isn't manly enough, this soap also calls for cedarwood essential oil. I mean, could the scent get any MORE manly?! I think not. It does get better though- it's super easy to make. Pretty great, right?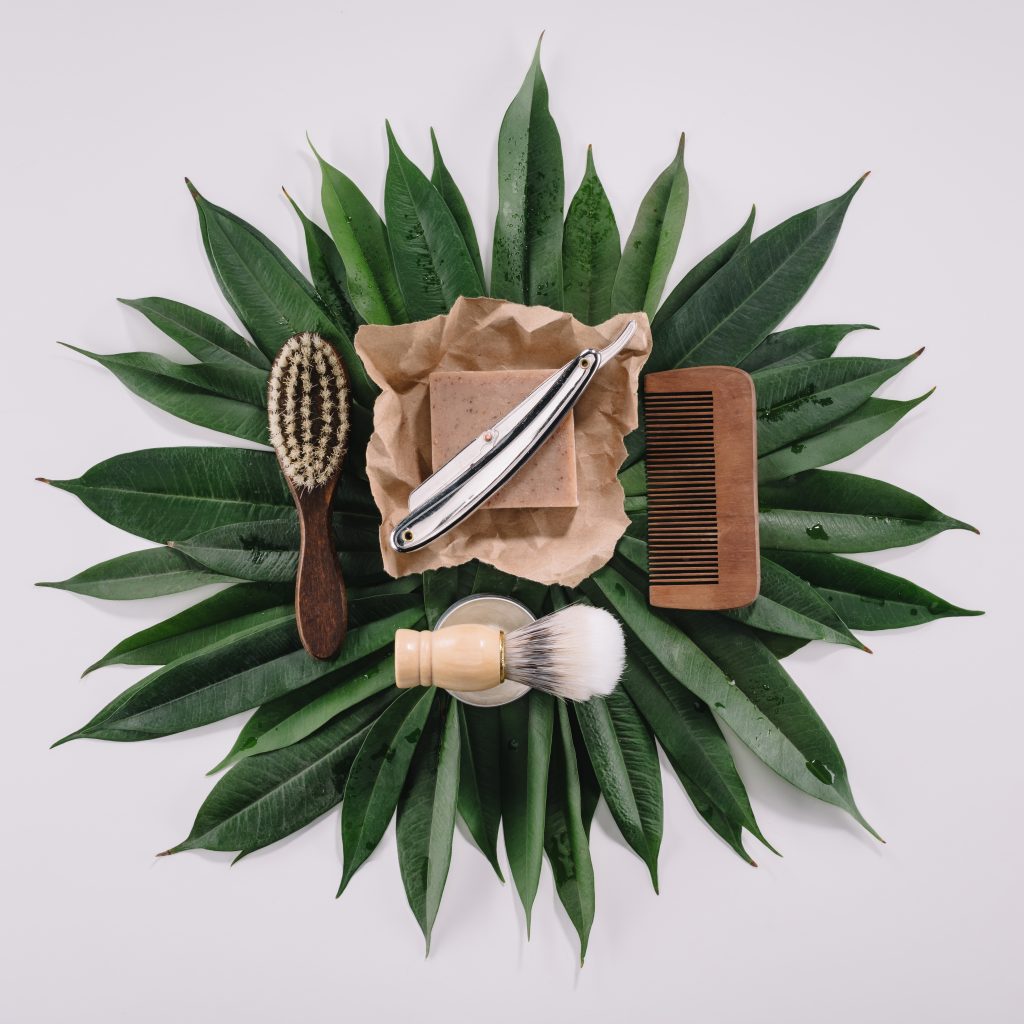 Here's what you'll need:
Instructions:
First, you need to melt your soap. This is super easy using a double boiler on the stovetop (or making one out of two pans) or simply zapping it in the microwave using 30-second increments and stirring in between. When the soap is completed melted, drop in the two tablespoons of clay, stir, and remove from the heat.
Next, add your essential oil (start with a few drops and increase as you so desire- a little goes a long way!) and your hops. Stir until fully mixed and pour into muffin tins. I think muffin tins are a great mold to use for this recipe because they yield manageable, fit-in-the-palm-of-his-hand, sized soaps.
Let the soap sit for several hours- you can speed it up by popping the tray in the freezer if you get impatient. When completely set, pop your soaps out of the muffin tins by tapping the pan on the counter a few times upside down. That's it! Seriously, could this recipe be any easier?
Since these are manly little soaps, make sure you package them accordingly. Use natural colored craft paper and twine, burlap bags, mason jars, or antique boxes. Don't forget to complete the gift with an old fashioned boar shaving brush!
How much will the men in your life love this thoughtful (yet super easy for you!) gift?
---
Let us know if you try out this recipe or any others from our blog!
Looking for the best soap making supplies? Check out our website for melt and pour bases, molds, fragrance oils, butters, waxes, and more!
Bulk Apothecary is the best supplier of all things soap making! 
Bulk Apothecary makes no claims of "expert status" and the company will not be liable for any losses, injuries, or damages from the use of the information found on this website.
As with all products, users should test a small amount prior to normal extended use. If pregnant or suffering from illness, consult a doctor before use.