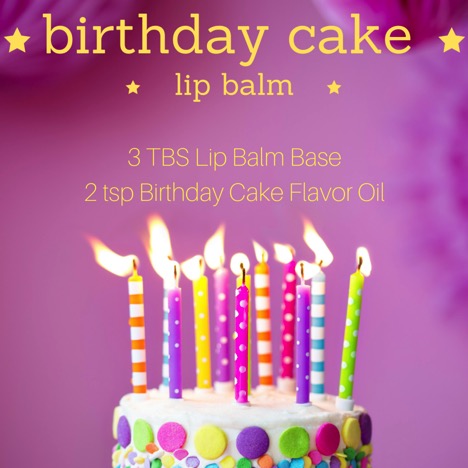 EASY PEASY!
This recipe couldn't be sweeter or simpler! Unscented lip balm base is the quickest way to flavor your own lip balm in one easy step. Packed with Soybean Oil, Bees Wax, Sunflower Oil, Cocoa Butter, Shea Butter and Aloe Vera Gel, you get all of the wonderful benefits of top ingredients without the hassle of buying and measuring each individually! Simply scoop out the desired amount, melt, stir in flavor and pour into your favorite tins or jars. You can even add color!
This recipe takes the cake when it comes to tasty lip balms. Sweet birthday cake flavor oil is the perfect addition for a flavorful and festive treat. Make a little for yourself or make a big batch to pass out as party favors. Either way, your lips will enjoy this simple DIY balm.
You'll need:
3 TBS Lip Balm Base
2 tsp Birthday Cake Flavor Oil
Melt the base over medium heat using a double boiler, or in the microwave using short bursts. Once in liquid form, remove from the heat source and stir in the flavor oil (allow the liquid to cool for a few minutes prior to adding the flavor). Carefully pour the mixture into the lip balm tins and allow to cool. Once solid (the cooled lip balm will look opaque once set) apply to lips as desired.
*recipe will fill 9 lip balm tins*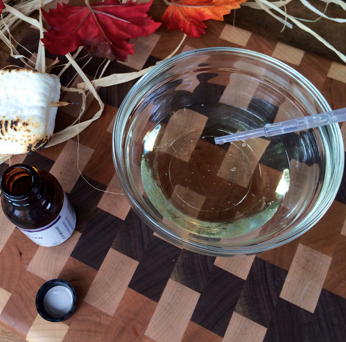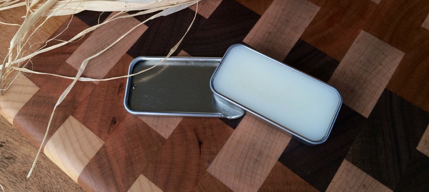 ENJOY!
*recipe will fill 9 lip balm tins*
Birthday Cake Lip Balm Recipe