Clove and orange have long been a festive holiday combination when it comes to fragrances. Think simmering potpourri on the stove and hot spiced cider- delicious, right? This scent duo would be amazing in a soap or a candle, but when I stumbled upon this recipe for lip balm from homemadebathproducts.com, I thought it sounded fabulous. I love the flavor of orange to begin with, but adding a hint of clove to spice things up is so fun! And the blend of Shea butter and sunflower oil along with the beeswax will leave your lips feeling velvety smooth during the cold winter months. Best part of this recipe? It's super simple to make!
Materials: 
Directions: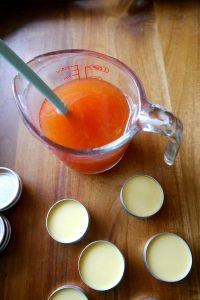 Coarsely chop the beeswax or use beeswax pastilles.

Place beeswax, butter, and oils in a small pot or glass Pyrex measuring cup and gently heat in the top of a double boiler until the beeswax and butters have melted.

Once melted, remove from the stovetop and add essential oils. Immediately pour the mixture into lip balm containers.

Allow to cool completely before placing caps onto the lip balm containers. Makes approximately 1.5 oz of lip balm, enough to fill 10 lip balm tubes, 6 of our 1/4 oz plastic jars, or 3 1/2 oz tins or plastic jars.
 Sounds pretty good, right?! I'm definitely giving this recipe a try for the winter season. I can just see it poured beautifully into lip balm tins with adorable labels. And the taste- I'm certain it will be divine. How can it not be? Orange- sweet, citrusy, invigorating. Clove- spicy and warm. I'm so excited to try it- and if my girlfriends are lucky, I may make a few extras for them to try as well. You should get some supplies and join in on the lip balm making fun!