Sunburn Spritz– Now that we are slowly getting back to normal with being allowed outside in this amazing weather, we are getting more sun. If you're anything like me, you're dealing with getting a sunburn that is leaving your skin dried up and sore. Aloe Vera is always a great product for any type of sun damage, and if you don't have any on hand, but have some essential oils, try the recipe below!
Also, ALWAYS wear lotion before hitting the sun this spring/summer! SPF can do wonders for your skin and a lot of people tend to use it sparingly!
Ingredients:
Steps: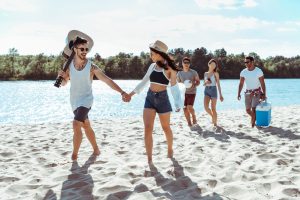 If you don't have an amber bottle, just be sure to find a dark-colored empty bottle.
Mix the Lavender Essential Oil, Helichrysum Essential Oil, and Aloe Vera Gel with the water in the bottle. Shake.
Apply to sunburn areas.
Store in a cool/dry place and shake before use. In particular, you want to keep the mixture out of bright areas. Pure aloe vera gel tends to be more liquid than gel-like. If you are working with aloe vera that is a bit thicker, just be sure to add a bit less, OR add a bit more purified water.
You want the product to be easily used with a mist-sprayer top. Do not spray directly in eyes.
Tip: Purified water should be used when you are mixing with essential oils. You may live in an area that has great tap water, but if possible, work with purified water.
---
Bulk Apothecary makes no claims of "expert status" and the company will not be liable for any losses, injuries, or damages from the use of the information found on this website.
As with all products, users should test a small amount prior to normal extended use. If pregnant or suffering from illness, consult a doctor before use.