Looking to get back to the basics with your skincare routine?
So many of us are trying to eliminate chemicals and additives from our homes and breaking down your beauty products can be a good place to start. Have you glanced at the ingredient list on the back of your cleanser lately? Yikes. Can you even pronounce the names of the ingredients listed? Probably not.
This recipe is simple and basic, and you can pronounce every single word! Don't be fooled though- just because we're taking out all of the fancy additives (along with the fancy price tag) doesn't mean your skin will be missing out. Coconut oil comes with a LONG list of benefits, sea salt gently exfoliates the surface while pulling out toxins and lavender oil soothes dry skin and irritations while killing bacteria.
Your skin will thank you.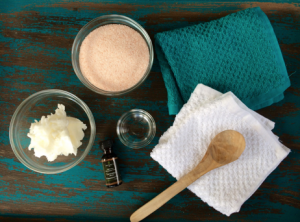 Did I mention that it was easy? Like, super-duper easy.
Ingredients: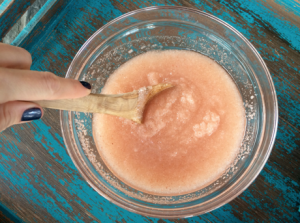 Directions:
1) To make, you?ll need to work off of a 1 part melted coconut oil to 2 parts salt ratio. Coconut oil is more of a solid at room temperature so you?ll need to melt it in the microwave before mixing.
2) For my recipe, I used 1 cup of melted coconut oil and 2 cups of pink salt to fill two mini Hermes jars. You can adjust this amount up or down by following the ratio above.
3) Next, add in a few drops of lavender essential oil. I used only a few because the lavender scent is sometimes overwhelming to me, but a few drops will scent the mixture noticeably. You can opt to leave this ingredient out (you'll still have a great scrub) or you can substitute it with a few drops of tea tree oil or peppermint oil for a more invigorating scrub.
4) I really love pink Himalayan salt- it?s SO pretty! And the fine texture works great as a gentle exfoliator. If you don't have any or want a colorless mixture, use plain Dead Sea salts for the same results.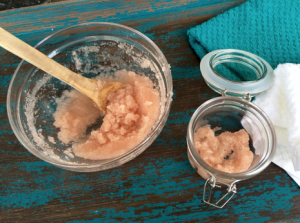 5) Carefully scoop the mixture into airtight lidded jars. To use, scoop a small amount of scrub with fingertips, allowing the coconut oil to begin to melt. Gently massage into damp skin and rinse with cool water. Remember, the coconut oil will solidify again after the mixture if complete so when you go to use it, you'll have to scoop it out with a little pressure. The scrub will immediately begin to melt with your body temperature.
6) After use, follow with plain coconut oil for a hydrating moisturizer and get completely back to the basics!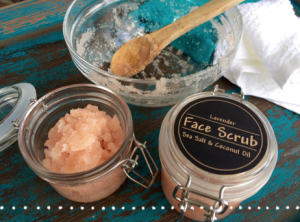 ENJOY!
---
Let us know if you try out this recipe or any others from our blog!
Looking for the best soap making supplies? Check out our website for melt and pour bases, molds, fragrance oils, butters, waxes, and more!
Bulk Apothecary is the best supplier of all things soap making! 
Bulk Apothecary makes no claims of "expert status" and the company will not be liable for any losses, injuries, or damages from the use of the information found on this website.
As with all products, users should test a small amount prior to normal extended use. If pregnant or suffering from illness, consult a doctor before use.