We've all seen the commercials for a certain shampoo brand with the gorgeous girl spinning around as her long, perfect, shiny, amazing hair falls effortlessly around her shoulders. Who has hair like that?!?! I'm pretty sure no one does. At least not naturally. If you do- we can't be friends. I'll be way too jealous having to stare enviously at your perfect mane all the time. It just wouldn't work out.
I tend to have dry hair (any other blondes out there? You know what I'm talking about!). Years of highlights, bleach (to make it just a little bit lighter!), product abuse, hairspray, hot styling tools, etc. has left my locks less than lustrous (and incomplete envy of shiny, perfect hair). But it's not just us blondes that suffer. Any hair type can face the aftermath of too much time in the sun and hours of soaking in a pool full of chlorine and chemicals. Even the most moisturized (borderline oily) tresses can feel a bit "fried" after several days at the beach.
So what's a girl (or guy) to do?
How about a nourishing hair masque made with only TWO ingredients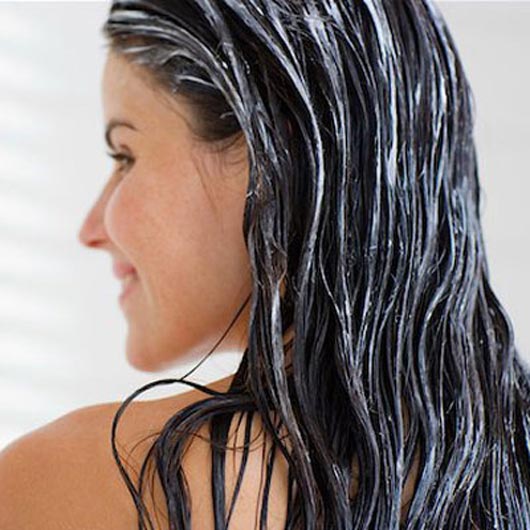 found in your kitchen cupboards (after all of my preaching on how great coconut oil is, I'm just assuming you've made it a staple in your home by now. If not, what are you waiting for?!). This moisturizing hair treatment can be done weekly, or more often if needed, to restore all of the natural oils that some "fun in the sun" can oftentimes eliminate.
So go to your kitchen, pull out these two ingredients, whip up your masque, and slather it all over your head.
Right now.
You'll be giving those supermodels with their oh-so-perfect locks a run for their money in no time!
Here's what I do:
Using two tablespoons of extra virgin olive oil and one tablespoon of coconut oil (since coconut oil is solid at room temperature, you can melt it in the microwave to liquefy it), stir the two oils together and coat your hair from root to tip.
Comb it through to be sure its evenly distributed and then pin your hair on top of your head in a bun, or loosely braid. The key to this treatment is to leave it on your hair for several hours. I usually sleep with the masque on my hair (yes, you'll look like a grease ball) and wash it off in the morning.
You can even cover your hair in plastic wrap if you'd like. When washing out the oil treatment, simply shampoo, and condition as you normally do! Repeat this weekly (or as often as you'd like) for soft, shiny, smooth hair.
It works wonders!
---
Let us know if you try out this recipe or any others from our blog!
Looking for the best soap making supplies? Check out our website for melt and pour bases, molds, fragrance oils, butters, waxes, and more!
Bulk Apothecary is the best supplier of all things soap making! 
Bulk Apothecary makes no claims of "expert status" and the company will not be liable for any losses, injuries, or damages from the use of the information found on this website.
As with all products, users should test a small amount prior to normal extended use. If pregnant or suffering from illness, consult a doctor before use.