Whipped Coconut Body Butter– I use Coconut Oil for just about everything. I cook with it. Lotion with it. I keep some in the shower and shave with it. I cleanse my face with it (read the blog post on that!). Do a great hair treatment with it. I even scoop a spoonful into my smoothies from time to time. It's an AMAZING oil with SO many uses and even more benefits!
It leaves the skin feeling so soft and it smells pretty great too.
If you're not into the texture of coconut oil in its solid form and prefer something a little more elegant when massaging your clean skin with lotion, try whipping it! It's so easy and leaves you with a fluffy, velvety, creamy texture that feels like heaven on your skin! I LOVE this easy, Whipped Coconut Body Butter recipe. 
There's really nothing to it and if you'd like, add a few drops of essential oil to kick up the sweet scent!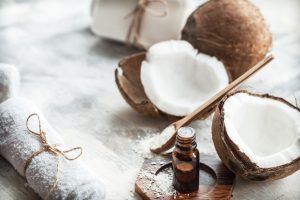 Ingredients:
Instructions:
Place coconut oil and fragrance oil in your stand mixer.
Beat on high for 10 minutes, or until mixture is thick and fluffy inconsistency.
Scoop into a lidded jar and enjoy! That's it! Could it be any easier to create a luxurious, velvety body cream, I think not?
---
Let us know if you try out this recipe or any others from our blog!
Looking for the best soap making supplies? Check out our website for melt and pour bases, molds, fragrance oils, butters, waxes, and more!
Bulk Apothecary is the best supplier of all things soap making! 
Bulk Apothecary makes no claims of "expert status" and the company will not be liable for any losses, injuries, or damages from the use of the information found on this website.
As with all products, users should test a small amount prior to normal extended use. If pregnant or suffering from illness, consult a doctor before use.