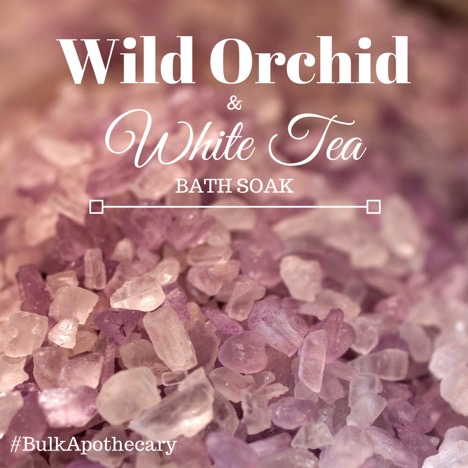 Bath soaks are one of the easiest DIY projects around. With just a few ingredients and a spoon, you can mix up a batch of fragrant salts in minutes. Whether you keep them for yourself or pass along the goodness to friends, the ease of this recipe will have you making them over and over!
Bath time just got WAY better!
You'll need:
1 cup Dead Sea Salt
1 cup Epsom Salt
Wild Orchid and White Tea Fragrance Oil
Container (We like the Mini Heremes Jars for these!)
In a bowl, mix together the salts and a pinch or two of the pigment powder (a little goes a long way!) until the mixture is evenly colored. Add in the fragrance oil and continue to stir. The fragrance oil can be adjusted to suit your preference, but 1 teaspoon is a good starting point. Scoop the mixture into an airtight container for storage and enjoy by adding a few scoops to warm bath water.
Wild Orchid and White Tea Bath Soak Recipe