Scary Soap Halloween Craft Recipe
If you're planning a fun treat for your little one's Halloween party, allergies are often a concern. Why not try something worry-free and do a spooky craft instead? These little soaps are a perfect alternative to candy and a great way to get the kids to participate in a fun project that they'll be excited to take home. Easy, fragrance-free, and fun to make, the kids are sure to go wild for this craft that will "Scare the Germs Away!"
You'll need:
-8 oz. Foamer Bottles
-2 gallons Unscented Foaming Hand Soap Base
-Halloween Stickers
-Plastic Halloween Toys (to put inside container- small enough to fit into container, large enough not to be choking hazard)
-Washi Tape (to identify fill line on each container)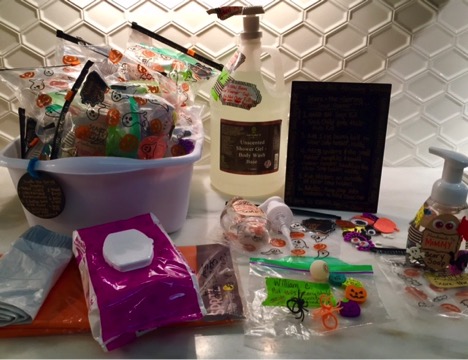 To make it easy on classroom volunteers, here are the easy to follow instructions for table set-up and "Scare the Germs" craft making:
Find the Soap Craft Bin with the following items and set up the table using the included table cloth and chalkboard with instructions for volunteers.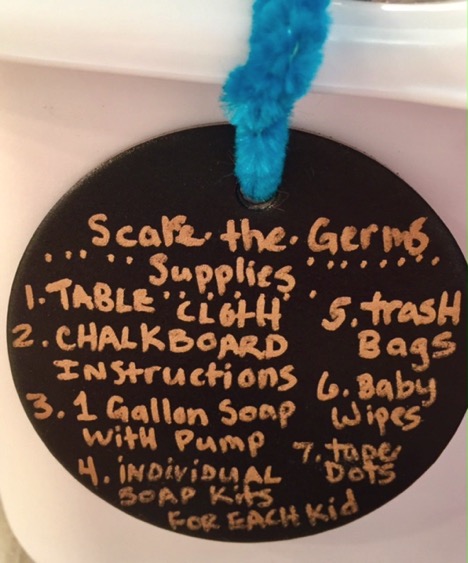 Give each child their 'Soap Kit' once they arrive at the Scare-the-Germs Craft table.
(The soap kits are labeled with each student's name & include an empty Soap Container, a variety of scary stickers for student to stick on the outside of the empty soap container, a baggie of plastic items for student to put INSIDE of the empty soap container and a white Soap Foamer/lid to be twisted on the soap container AFTER soap is pumped into the soap container BY AN ADULT).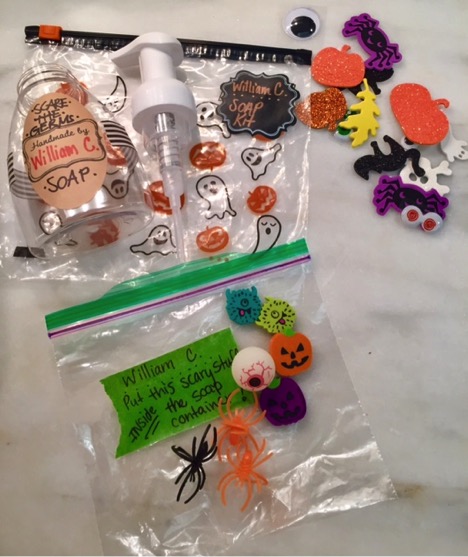 Help students open their materials and let the fun begin! When students are finished applying stickers to the outside and have added the plastic toys inside the empty container, please have an ADULT pump the foaming soap into the empty container, filling the container only to the TOP of striped tape/fill line to prevent overflow when Foamer Top is twisted on. Use the large gallon of pump soap to fill containers.
Place the child's completed Scare-the-Germs Soap and any of their unused items back into the ziplock bag/Soap Kit and add the ziplock bag to the child's 'Halloween Take Home Bag'.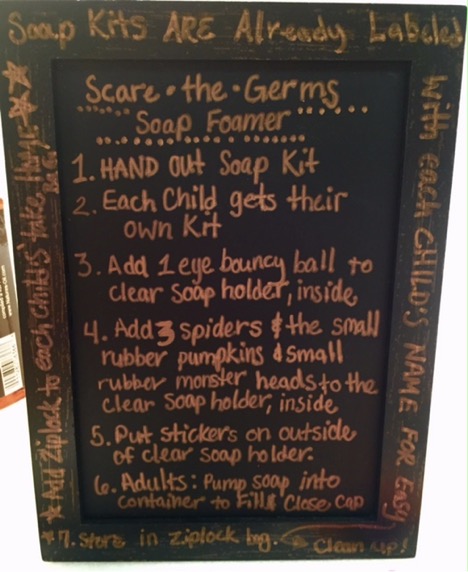 For easy cleanup, a trash bag and baby wipes are included.
Return any unused items i.e. Gallon of Soap, Sign, (not including children's ziplock bag items) back to this bin at the end of the party.
FINISHED PRODUCT: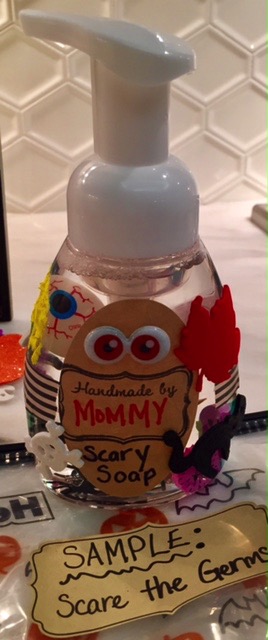 HAVE FUN & HAPPY HALLOWEEN!
**Recipe sent in by Kristin C.