Soap Making Supplies for Beginners
What do I need to make soap?
Melt and Pour Soap Base
Lye
Oil and/ or Nourishing element (i.e. cocoa butter, shea butter, vitamin E, coconut oil)
Fragrance Oil
Color/Pigment
Soap Molds
What Do You Need to Start Making Soap and Why?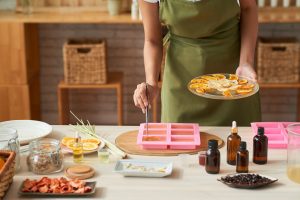 The holiday season is upon us and we want to give gifts to everyone in our lives to show them how important they are to us. What better way to show them your appreciation than starting a new hobby to make them handmade, homemade gifts that they'll love??
If you're new to soap-making, it's been a while, or you are just curious about the process and want to try something new, we've got the perfect post for you.
Here's a simple, effective list of what you need for getting started as a soap-maker! We've included where you can find the supplies on our website and recommendations as to which items to pick depending on your project of choice.
Without further ado, here's what you need to get!
Melt and Pour Soap Base
The first basic product you need is a run of the mill, melt and pour soap base. In 2021, we have access to the best of the best and most customers and friends probably have some preferences. Hypoallergenic, cruelty-free, plant-based, or vegan for your one friend that won't let you forget they went vegan six months ago.
Our soap bases are all of those things and more and are perfect for getting started.
If you're already considering making a product that's a little more complicated, you could always branch out and get a soap base that has a specific purpose! For example, if you're making a shaving cream or soap right out the gate you could start with our Shaving soap base that's formulated specifically for giving your products extra lather so that shaving is easier.
2. Lye!
Especially if you want to make cold process soap you're going to need some lye! It is absolutely crucial to ensuring that your soap can fully solidify. But please read up on how to safely handle lye as it can be dangerous. It's a strong chemical!
Read this article to understand safety measures!
3. Oil of Your Choice
The next important step is getting an oil to use in your soap. Everyone has their own preference but our favorites are some of our pretty basic, easy to work with options.
One simple one is olive oil! We sell it in larger quantities than most stores with a wholesale price so you can get a bigger jug than the ones you use for cooking, too!
We have many other types, too, such as jojoba, coconut, and palm oil to help you out with making your soap!
4. Nourishing Element
It's very important for your soap to have some sort of nourishing element. You don't want it to dry out your skin like the Dial bar soaps your grandma uses.
Some good additions can include Vitamin E, Coconut oil, shea Butter, and cocoa butter. Out of those options, most people tend to use shea butter as it's known to be ultra-moisturizing, cost effective, and smells amazing.
5. Fragrance oil
You don't just want to have a nice, luxurious-feeling soap, you also want it to smell good! After the soap base and lye are mixed and you've added your nourishing ingredient, you can add a fragrance oil. Or maybe a mix of several.
This is the start of the fun, creative aspect of soap-making!
Make a blend of your favorite scents, experiment, have fun with it! Make sure you don't add too much fragrance; you don't want it to dry your skin back out when you use the soap. Plus, too much fragrance can be unsafe for the skin. Make sure you check the IFRA to see the limit for the fragrance to see how much is too much of the oil to add to the amount of liquid you have. These will be available on the fragrance oil's webpage or by contacting us!
Some fragrance oils are NOT skin safe so you need to double check! We have a page that's just for skin-safe, body care fragrance oils so you don't make the catastrophic mistake of using one with unsafe chemicals and hurt/burn your skin. Making soap is a science and chemicals are dangerous!
6. Colors!
Okay, so, you don't have to color your soap. But it looks so cool!!
There are so many interesting, creative things that our customers have been doing with their soap and colors. Swirling, layering, shapes; there are just so many amazing ideas we've seen lately.
Try your hand at different colors using soap colors or you can even look through our different herbs and spices to find both natural color options, like using turmeric to make yellow soap, and botanicals to put on top of your soap to give it a unique, special look with natural ingredients.
It's all up to you!
7. Soap Mold
Last step: You've got to pick what the soap is going to go in! There are several trends right now but the biggest is a silicone soap loaf mold!
This is perfect for cold process soaps and enables your soap to harden while retaining its moisture so that you can cut it into bars afterwards to cure the soap!
Another trend is using cute soap molds! We have so many favorites but you can go through and pick the best one for you!
And think about what your customers would want, too, if you intend to sell them. This is such a fun part of it: deciding which artsy shape to try!
Get started and let us know how you're doing!
Tag us in your creations @BulkApothecary on Instagram or @BApothecary on Facebook!
Let us know if you try out this recipe or any others from our blog!
Looking for the best soap making supplies? Check out our website for melt and pour bases, molds, fragrance oils, butters, waxes, and more!
Bulk Apothecary is the best supplier of all things soap making!
Bulk Apothecary makes no claims of "expert status" and the company will not be liable for any losses, injuries, or damages from the use of the information found on this website.
As with all products, users should test a small amount prior to normal extended use. If pregnant or suffering from illness, consult a doctor before use.