Making homemade candles can be a fun project and can allow you to customize your candles in ways that you may not find in the stores.
For Valentine's Day, I made this one with pink and red hearts and a sweet, fruity fragrance.
Perfect for Valentine's Day!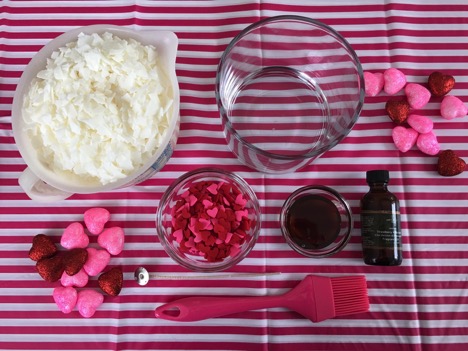 You'll need:
Candle Wax (I used CB-Advanced Soy)
Wick Stick-ems, Glue Dots, or Hot Glue
Strawberry Milkshake Fragrance Oil
Pink and Red Heart Sprinkles
Corn Syrup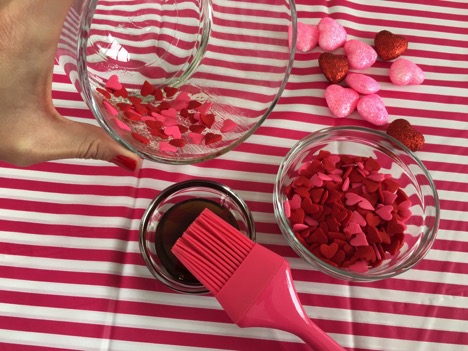 Start by securing the heart sprinkles to the inside of the jar. This is where the corn syrup comes in (I suggest using clear corn syrup- turns out I only had dark corn syrup on hand when I began this recipe).
Using a pastry brush, coat the inside of the jar and immediately sprinkle the hearts onto the syrup. Work in small sections until the entire jar is coated and covered with the hearts. Allow the corn syrup to dry completely before moving on (you can pop the jar in the refrigerator to speed up the process).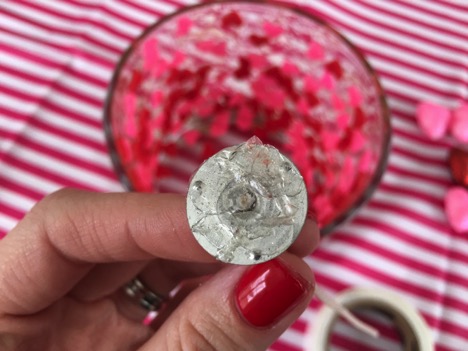 Prepare the wick by sticking the wick stick-ems (or glue dots or a little hot glue) to the metal tab. Press the tab firmly to the bottom of the jar, in the center.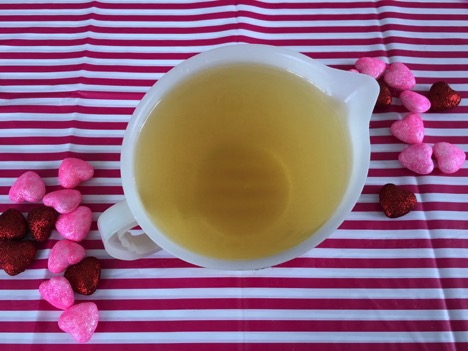 Onto the wax! You'll need DOUBLE the amount of wax flakes that your jar holds. This is because as the wax melts, the liquid amount will be half of the dry amount. Got it? Be sure to measure this out before prepping the jar.
Heat the wax in a microwave-safe bowl or measuring cup (a spout really helps for clean pouring!) until a smooth liquid is achieved.
Remove from the heat and cool briefly (a few minutes).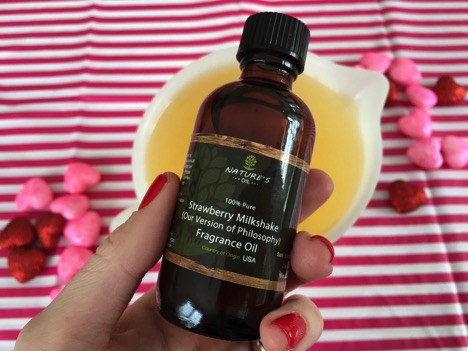 Next, add fragrance to your melted wax. Remember, you'll need 1 ounce of fragrance oil for every 1 pound of candle wax. This will give you a nice burning scent.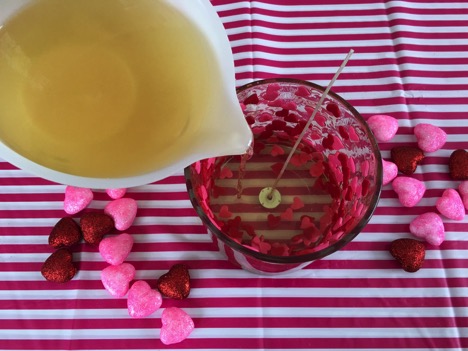 Carefully pour the wax into the prepared jar. It's okay if some of the hearts move around. A few may slide a little but the majority of the sprinkles should stay put.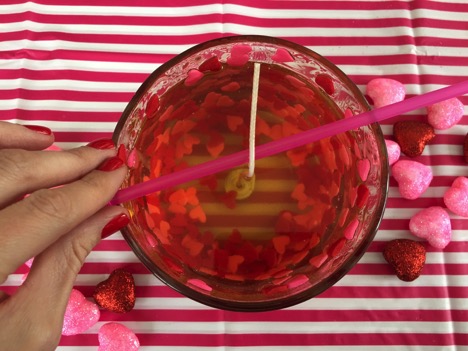 While the candle cools you'll need to center and anchor the wick. This can be done with a wick clip, a straw, a skewer or anything longer than the jar opening.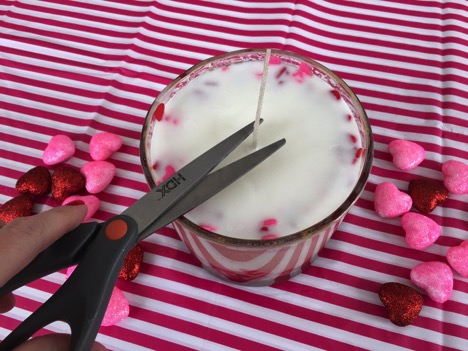 Prior to burning (after your candle is COMPLETELY cooled and hardened), trim the wick.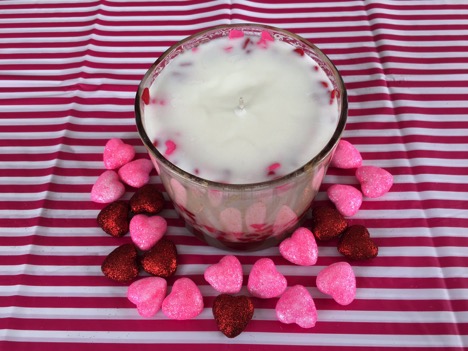 Burn and enjoy! This candle makes great holiday décor, a lovely centerpiece and a great gift!
Happy Valentine's Day!