A Perfect Gift or Sustainable Alternative to Purchasing Fine Fragrances 
I'm personally a HUGE fan of perfume. I collect so many designer perfumes it's silly and it's such a random, expensive hobby to smell good. 
This is how I save my budget and still smell amazing! Plus, I now know how to make my friends and family their favorite fragrances for a much, much cheaper price. 
Try it out and let us know how it goes!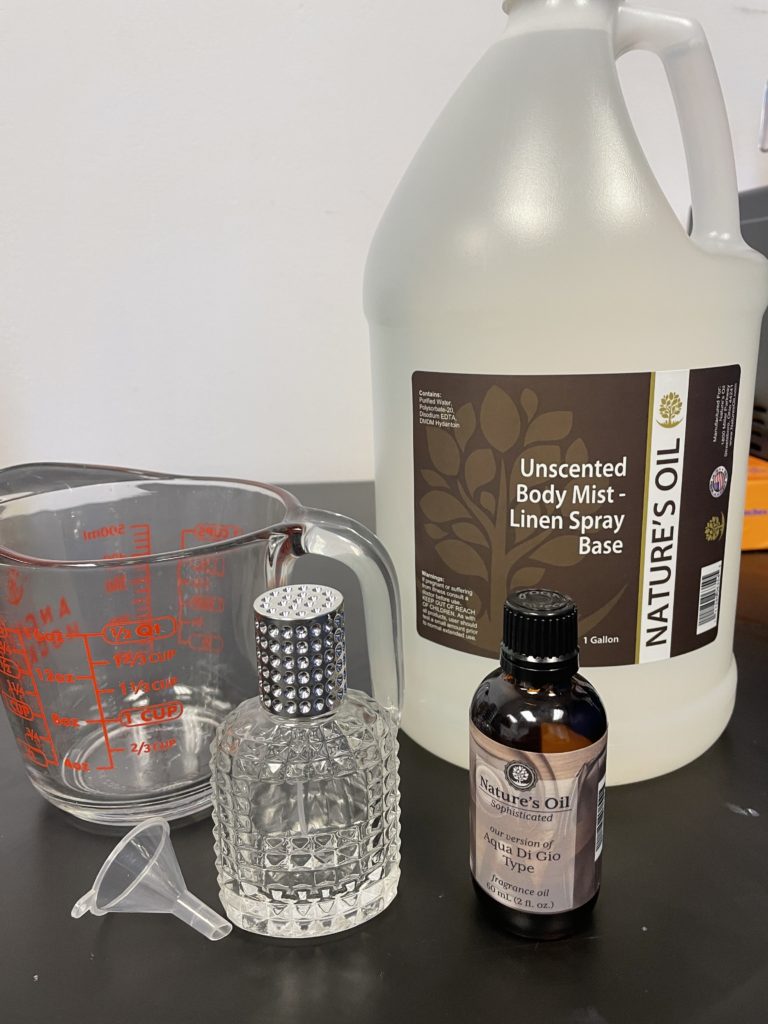 What You'll Need
2 oz of your fragrance of choice
8 oz of base (100 proof alcohol if you want it to be just like a fine fragrance or linen spray base for a body spray)
Perfume containers (I got mine off of Amazon)
Mini funnel for top of perfume bottle (comes with bottle if ordered off Amazon)
Measuring cup with oz
Pigment powder for color (if desired)
Instructions
Pour 8 oz of base into your measuring cup. 
Pour out 2 oz of fragrance oil into measuring cup. 
Combine well. 
Pour into perfume vessels. 
Let settle. 
Gift wrap if giving it as gift or use it yourself. 
I used Aqua di Gio by Giorgio Armani and these perfume bottles for mine as they were going to be a gift for my brother. 
He loves it!
If you want to make it but buy differently sized bottles, just use the ratio of 80% base and 20% fragrance oil!
If you try it out, tag us, we'd love to see!! 
Let us know if you make this recipe or any others from our blog!
Looking for the best essential oils? Check out our website for the best essential oils and organic essential oils for crafting, soap making, candle making, and more!
Bulk Apothecary makes no claims of "expert status" and the company will not be liable for any losses, injuries, or damages from the use of the information found on this website.
As with all products, users should test a small amount prior to normal extended use. If pregnant or suffering from illness, consult a doctor before use.