Snowball Soap– So I woke up from a dream of a fresh blanket of beautiful white snow and soon realize that- you're snowed in- with the kids. Yep- if you live in parts of the country where snow is in the daily forecast this time of year, school closings are a part of the deal. While the kids couldn't be more excited (I used to LIVE for snow days!), you may be finding yourself a little stressed thinking about what to do alllll day long. Playing outdoors usually doesn't occupy them for the entire day (or days, if you really got a blizzard) so what exactly are you going to do with them while you're all cooped up together in the house?
Get creative- that's what you're going to do!
This next recipe is not only absolutely adorable (especially for the winter season), but is soooo easy! The kids will love rolling up their sleeves and getting their hands dirty while helping you create these cute snowball soaps with just a few of our quality soap making supplies. It's a great way to avoid a day full of TV and video games for them and spend time together working on a project. Make the most of your day together and do something that's fun!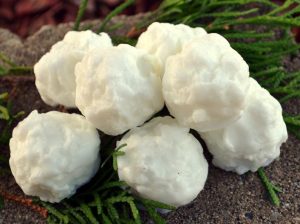 Here's what you'll need:
Directions:
Using a cheese grater (or similar product), grate about 1/3 of the soap into fine shavings.
Place your soap shavings into a bowl and add as much sparkle glitter as you'd like (this glitter is made specifically for use in lotions, soaps, and body products so it's safe for use on the skin). The goal is to make a moldable mixture, so with the next ingredients (the essential oil and the aloe vera) add a little of each until the consistency is achieved that allows you to roll a small amount into a ball.
Add more soap shavings or liquids until you reach this point (thick, sticky, but moldable) and roll several golfball-sized balls.
Allow your soap balls to dry and display in a soap dish next to the sink for use!
These Snowball Soaps are BEAUTIFUL for the holiday season as they add a sparkly touch to your powder room soap dish. Guests will enjoy them and your kids will love helping you make them. To customize, choose a fragrance that you'd enjoy- I picked a holiday scent but you can use whatever you'd like!
Have fun!