Today I thought I'd share a current obsession of mine with you- just in time for the holidays! These Ultrasonic Oil Diffusers from NOW Solutions and I'm in LOVE. They are so incredibly easy to use and with their sleek design and neutral wooden color, they blend seamlessly into any home decor.
OH- and they make your house smell AMAZING!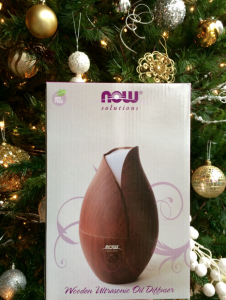 When you receive your diffuser, it comes packaged just like this- with a clear image of the product on the box. It's smaller than a football in size, so you won't have any trouble finding a spot somewhere in your home to place it.
Features
It has several settings- one for just the diffuser, one for a night light (the top portion softly changes colors from pink to green to blue- it's very relaxing and pretty), and one that combines the diffuser and night light together. When you're not diffusing fragrances into your home, this product can also be used when you're fighting off a cold by using an essential oil that helps to break up congestion. The soft night light also provides a soothing atmosphere to ease you into sleep.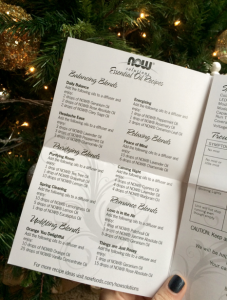 Instruction Manual
With the diffuser, NOW Solutions also provides you with several recipes for blending fragrances. Depending on what your mood is- they have a blend for you to try! I thought this was super handy, especially if you haven't decided what scent you want to start with or what atmosphere you want to create. They make it really easy to fill your home with lovely blends to suit any mood.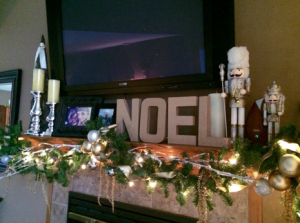 Fragrance
For mine, I decided to start with a Christmas scent– Dickens Christmas Fragrance Oil— smells sooooo good if you're looking for a sweet, Christmas-y fragrance. As it's the holiday season, all of my candles are scented with holiday fragrances. So I figured I'd keep with the theme and use a holiday oil. During this season, I really try to keep my home full of holiday scents. That way, anytime someone stops over, the house smells delicious!
With this product, you only need to use a few drops of oil to fill your entire home with fragrance, so one small bottle will really last you!
With the sleek design and small size of this diffuser you can choose to nestle it into your current decor.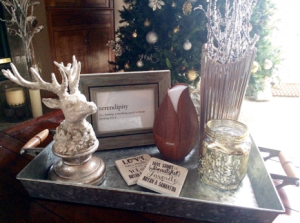 I really love the versatility of this product and the power that it packs when diffusing a fragrance throughout my home. Like I said, it's currently an obsession of mine and I know you'll love it too. If I didn't already have one I'd be putting it on my Christmas list!
Pairing one of these ultrasonic diffusers with a delicious holiday fragrance oil would be the PERFECT gift to give this season (or just give one to yourself!).
---
Find gift guides, recipes, tips, tricks, and more on our blog!
Looking for the best essential oils? Check out our website for the best essential oils and organic essential oils for crafting, soap making, candle making, and more! 
Bulk Apothecary makes no claims of "expert status" and the company will not be liable for any losses, injuries, or damages from the use of the information found on this website.
As with all products, users should test a small amount prior to normal extended use. If pregnant or suffering from illness, consult a doctor before use.