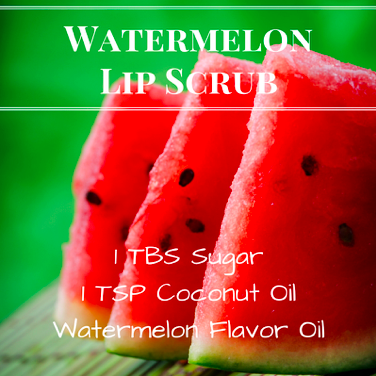 Summer is a time for fun in the sun! Whether you prefer splashing in a pool, laying on a beach, hiking trails or lounging on the patio, your skin can take a beating from the rays resulting in dry, peeling spots. Lips included!
Aside from protecting them with a good SPF, exfoliating regularly can help to slough off the dry skin and allow the soft, supple skin to show. Soft, smooth lips are the perfect canvas for all of the fun summer lip shades, so do yourself a favor and whip up this simple, sweet tasting scrub!
Watermelon Lip Scrub
1 TBS Sugar
1 TSP Coconut Oil
Watermelon Flavor Oil (to taste)
Combine the sugar and coconut oil, creating a paste-like consistency. To the mixture, add a few drops of flavor oil. Continue to increase the amount of flavor oil used until you've reached your desired taste. Scoop the finished mixture into a lidded jar for storage.
To use: Gently massage over damp lips focusing on dry, flaky areas. Rinse with cool water and follow with a hydrating lip balm. Repeat as needed.
Watermelon Lip Scrub Recipe