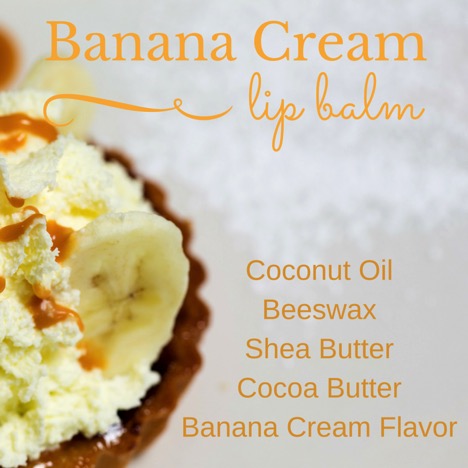 If you love bananas you're in for a treat! This lip balm doesn't disappoint. Aside from all of the nourishing ingredients that will leave your lips supple and smooth, it's packed full of flavor making taking care of your lips a delicious experience.
Banana cream pie without the calories? Yes, please!
You'll need:
1 TBS Coconut Oil
1 TBS Beeswax
½ TBS Shea Butter
½ TBS Cocoa Butter
Using a double boiler or similar set-up, melt the ingredients together over medium heat. Once melted, carefully remove the mixture from the heat and allow it to cool slightly (just a few minutes). Stir in the flavor oil starting with a few drops and increasing until you reach your desired flavor intensity (you can test this as you go by placing a drop on your finger and rubbing it over your lip).
Once the mixture is complete carefully transfer the liquid to your lip balm tins or jars. Allow the mixture to cool and solidify completely prior to use.
Use as often as you desire for soft, sweet, kissable lips!
Banana Cream Lip Balm Recipe