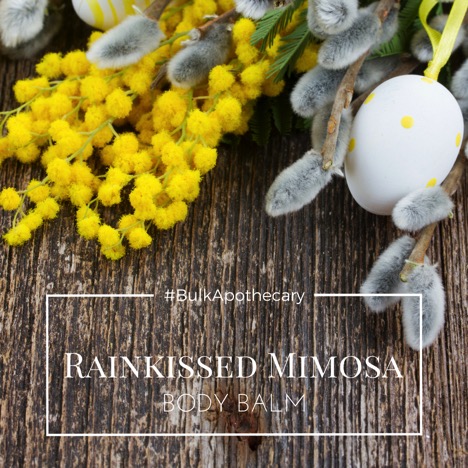 Rainkissed Mimosa is the perfect understated fragrance. It's light, soft and fresh, making it a great match for homemade body balm. Paired with a recipe that will leave your skin silky and hydrated, this duo can't be beat!
You'll need:
1 cup Cocoa Butter
1 cup Mango Butter
1/3 cup Avocado Oil
1 tsp Vitamin E Oil
Rainkissed Mimosa Fragrance Oil
Jar with lid (I like the mini heremes jars for this)
Step 1: Combine the cocoa butter and mango butter in a double boiler (or similar set-up) and melt over medium heat until liquid form.
Step 2: Remove the melted butter from the heat and allow to cool slightly (10 minutes) before stirring in the avocado oil, vitamin e and fragrance oil. You can use up to 1 TBS of fragrance oil depending on how strong you want your body balm to smell.
Step 3: Place the bowl in the refrigerator for 30-40 minutes to cool. When the edges start to become opaque, it's ready.
Step 4: Using an electric mixer whip the mixture on high speed. The mixture will slowly turn from clear/yellow, to opaque and creamy white.
Step 5: Scoop into an airtight container for storage and keep in a cool dry place in between use.
ENJOY!
*This recipe will last up to 6 months if properly stored. If you'd like to increase the shelf life, consider adding a preservative!
Rainkissed Mimosa Body Balm Recipe