DIY Exfoliating Coffee Soap– The key to maintaining smooth, healthy, and beautifully soft skin lies in the power of exfoliation. When your soap contains a "scrub like" material it helps remove dead skin, which gives it a radiant glow. It also helps other skincare products, such as lotions and moisturizers absorb into the skin more quickly and efficiently.
The problem is, many store-bought exfoliates can contain harsh chemicals, which can dry out your skin and have the opposite effect of what an exfoliate is meant to do. So, how do you get around this? By making your own.
Before you start, keep in mind that not all exfoliates are created equal. It is important to consider how you will be using it before choosing your ingredients. For example, the skin on your face generally requires a gentle exfoliate, while rough patches on the body, such as heels and elbows, will require something that packs a bigger punch.
But, for now, we are going to focus on one recipe that is sure to get the java lovers of the world something to smile about: Homemade-exfoliating-coffee soap…
Why coffee?
If you have ever spent an afternoon wandering around the perfume counter at a department store, you know that there are little bowls of coffee beans placed on each counter. This is because coffee neutralizes odor, which makes it a perfect ingredient for soap. Also, the natural caffeine found in coffee is believed to be an anti-inflammatory and can reduce the appearance of red spots on the skin.
Coffee's natural oil contains enzymes that work well in soap because they aid in cleansing and detoxifying the skin, which makes it a great choice for those who are prone to skin conditions, such as acne and eczema.
Here is what you'll need:
Ground coffee beans (obviously)
1 lb. package of melt-and-pour soap base
Cinnamon oil (optional)
A soap mold
There is a variety of soap bases to choose from, but a milk-based one will give you the best results when it comes to moisturizing your skin. You will also want to choose a soap base that has a "suspension formula," which means that your additives (coffee grounds) will stay evenly suspended within your soap.
Keep in mind, although coffee is known for its strong aroma, when it is ground up and added to your soap mixture, the scent will become extremely muted. This is where your essential oils come into play. You can mix and match any scents that you love, but you'll want to start with a coffee oil base. Vanilla, milk and honey, and cinnamon pair well with this particular blend.
How to make your soap: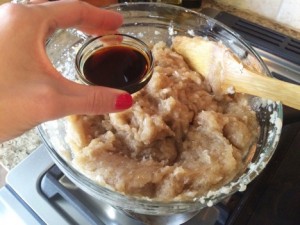 Step 1- Figure out how much soap base your mold can hold. Some molds will note how many ounces they hold, but some will not. In this case, fill one mold with water and pour it into a measuring cup. This will tell you how many ounces of soap base you need to fill your mold. Once you have determined how much you'll need, cut your soap base into small cubes. This will help it melt more quickly.
Step 2- In a microwave-safe bowl, melt your soap base in 20-second intervals, stirring after each one until it is completely melted. Make sure you don't over melt your base or you risk losing the essential moisture properties.
Step 3- Add the exfoliating ingredient, in this case, your coffee grounds. Stir your mixture until the coffee grounds are evenly dispersed.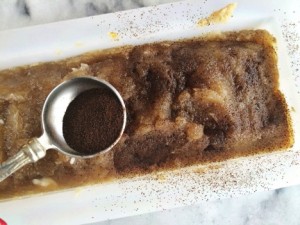 Step 4- Add your pure coffee essential oil (and any additional oils). Different oils will have different potencies. You can follow the suggested amount on the packaging of your oils, or you can go crazy and add any amount that you please. It all depends on you.
Step 5- Fill your molds. There may be bubbles on top of your soap, but a couple spritzes of rubbing alcohol, about 6 inches away, will remove them, making your soap smooth and beautiful.
Step 6- Hands off. Try to resist the temptation to touch your soap until it has fully hardened, which generally takes about four hours, but will differ depending on your mold size. Once your soap is ready you can pop it out of its mold and enjoy it.
Ta-Dah!
You have now created a luxurious-exfoliating soap that you are sure to love, and this DIY project is an affordable gift for loved ones just in time for the holidays. Contact us today for more inspiration on how essential oils can boost your handmade soaps.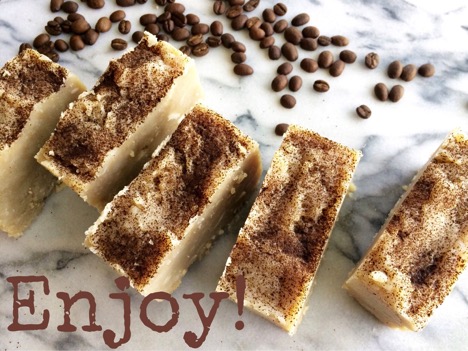 ---
Let us know if you try out this recipe or any others from our blog!
Looking for the best soap making supplies? Check out our website for melt and pour bases, molds, fragrance oils, butters, waxes, and more!
Bulk Apothecary is the best supplier of all things soap making! 
Bulk Apothecary makes no claims of "expert status" and the company will not be liable for any losses, injuries, or damages from the use of the information found on this website.
As with all products, users should test a small amount prior to normal extended use. If pregnant or suffering from illness, consult a doctor before use.