Hey Bulkers! Today we've got a peppermint calendula soap recipe that's sure to 'WOW'!
It's simple to make but looks impressive with delicate calendula petals scattered over the top as the finishing touch. Infused with calendula oil, it's packed full of skin-healing benefits while invigorating and awakening the senses with peppermint essential oil.
It's a good one! All the ingredients can be purchased here!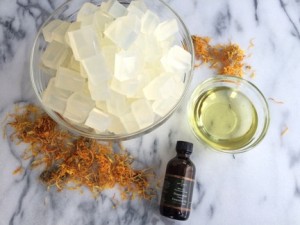 Ingredients: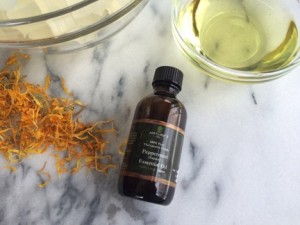 This is the Peppermint essential oil I used. It smells fantastic!
As mentioned, this calendula soap recipe is infused with calendula oil. First, you'll need to make a batch (don't worry, it's super easy). If you only plan to use the infused oil for this recipe, just make a small batch like I did.
Calendula Oil Directions
If you have time to spare, mix the carrier oil (I used sweet almond oil) with a small bunch of petals and place it in a clear jar. Set the jar by a window and allow the oil to infuse in the sun for several days.
However, if you're short on time, or just making a very small batch (like I did), you can infuse the oil using heat! In a small saucepan, heat the oil and petals over low for about 10-15 minutes. Be very careful not to boil or burn the oil! Just use very low heat for a gradual infusion. Then, you can remove from heat and allow to cool to room temp before use.
Soap Making Directions
In a heat-safe bowl, melt the soap base in the microwave until all cubes have dissolved into an even liquid.
Next, remove from the microwave and stir in the essential oil.
Now, for the infused oil that you made! To this base, add 1-2 tablespoons of calendula oil. MP soap bases are packed with nourishing oils so you don't need to add much when working with them.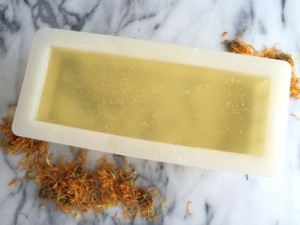 Carefully pour the soap mixture into a prepared mold. I used a silicone loaf pan, but feel free to use other mold shapes and designs if you'd like to.
Immediately sprinkle the remaining calendula petals over the top of the soap. You want to do this step quickly after pouring as the soap will begin to set pretty fast and you want the petals to stick.
Finally, allow the finished soap to cool and set completely before taking it out of the mold. Cut the block into even slices (mine are about 1/2 inches thick) and package in clear cello bags to showcase just how pretty they are!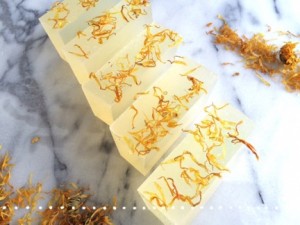 ---
Let us know if you try out this recipe or any others from our blog!
Looking for the best soap making supplies? Check out our website for melt and pour bases, molds, fragrance oils, butters, waxes, and more!
Bulk Apothecary is the best supplier of all things soap making! 
Liability
Bulk Apothecary makes no claims of "expert status" and the company will not be liable for any losses, injuries, or damages from the use of the information found on this website.
As with all products, users should test a small amount prior to normal extended use. If pregnant or suffering from illness, consult a doctor before use.