Clear Face Cleansing Bar Recipe– If you're anything like the majority of us, you've battled a few breakouts from time to time (ugh). While I've never had horrible acne, I've definitely tried my fair share of products to banish unwanted blemishes. From soaps to gels, to creams..in desperate times I've even turned to toothpaste (yep, you read that correctly).
While there's no magic potion that will keep you from getting a pimple ever again (wouldn't that be great?), we can definitely do our best to keep breakouts to a minimum. Tea tree oil is an amazing natural product that works wonders for acne-prone skin. As an anti-fungal, antibacterial, antiseptic, and antiviral essential oil, it rids the skin of dirt and bacteria (which collect in pores and cause pimples) clearing up existing breakouts and preventing new ones.
Pretty amazing, right? Today I'm making a skin-clearing soap using only three ingredients. That's it!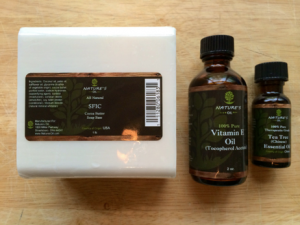 Ingredients:
vitamin E oil
These are the only three ingredients you'll need to make the perfect skin-clearing soap. I used a cocoa butter soap base because I know my skin responds well to it and it adds a nourishing, moisturizing element to the finished soap.
You can use any type of base you'd like, just be sure your skin likes it! If you know Shea butter soaps irritate your skin, using a Shea butter base will totally defeat the purpose of creating a skin-clearing soap- so use your best judgment!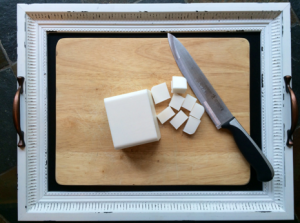 Directions:
1) Start by cutting 1 pound of melt and pour soap base into evenly sized cubes.
2) Transfer the cubes to a microwave-safe bowl and melt in the microwave using short increments and stirring in between. The melted soap base will be smooth and free of clumps. It looks like a bowl of warm milk!
3) Next, mix in 1 teaspoon of vitamin E oil. and stir to be sure the oil is completely incorporated into the soap base.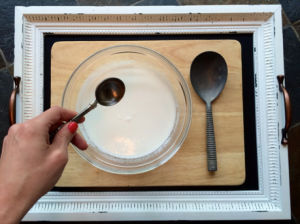 4) Now add in the tea tree oil. You can add up to 2 tablespoons, but I used only 1 tablespoon in my soap today. The more you use, the stronger the acne-fighting power your soap will have. Stir it all up!
5) Prepare the soap mold you've decided to use. I stuck to a basic, rectangular silicone mold, but you can be creative and use different shapes, sizes, and designs if you'd like!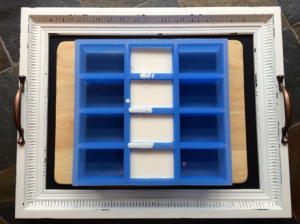 6) Carefully pour the soap mixture into the molds. I split the mixture between four spaces which will yield four thick bars.
7) Allow the bars to completely cool and harden before you free them from the molds. I packaged mine in a clear plastic wrap and finished each bar with twine and a tag.
8) Cleanse face with warm water and lathered Clean Face Cleansing Bar. Rinse with cool water to close pores.
Enjoy a squeaky clean, clear face!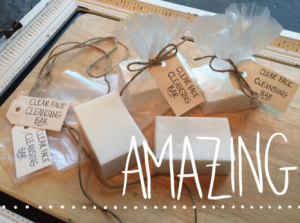 ---
Let us know if you try out this recipe or any others from our blog!
Looking for the best soap making supplies? Check out our website for melt and pour bases, molds, fragrance oils, butters, waxes, and more!
Bulk Apothecary is the best supplier of all things soap making! 
Bulk Apothecary makes no claims of "expert status" and the company will not be liable for any losses, injuries, or damages from the use of the information found on this website.
As with all products, users should test a small amount prior to normal extended use. If pregnant or suffering from illness, consult a doctor before use.