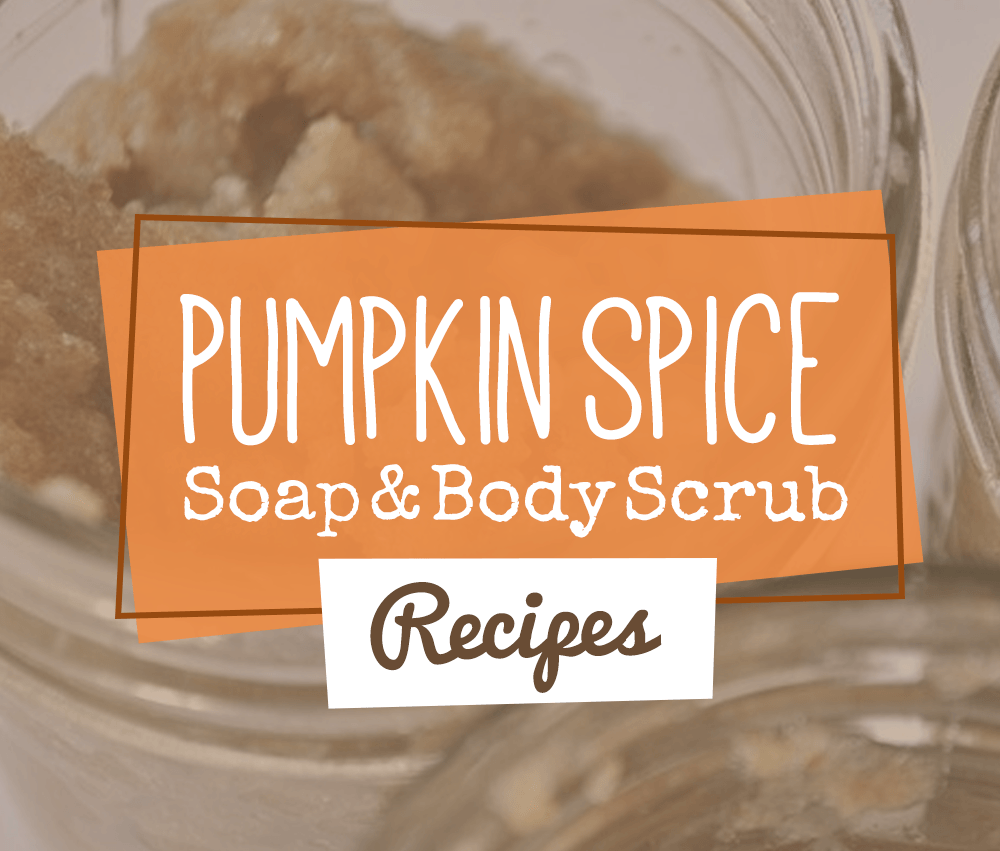 Pumpkin Spice Soap and Body Scrub Recipes
Though the official start of fall is just around the corner, you'd likely already ushered in the unofficial start of fall the beginning of September. With Halloween coming up in a few weeks, pumpkin patches and pumpkin carving in full swing, and, of course, pumpkin flavored everything everywhere it seems like fall has already been around for a while. As is our tradition, we scour the Internet and come up with pumpkin infused soap and scrub recipes. Below are a pumpkin spice soap recipe and two pumpkin spice scrub recipes. All three recipes are easy to make and will definitely get you into the fall spirit.
Pumpkin Spice Soap Recipe
This pumpkin spice soap recipe comes from Pinterest
What you'll need:
Red and yellow soap colorant
Microwave safe measuring cup w/ spout
Directions:
Begin by melting the soap base. It is easier to melt if half is melted at a time and the base is cut into smaller cubes. Melt the base in the microwave at 20-30 second increments with thorough stirring between increments. For 2 pounds of soap base, it takes 2 minutes and 40 seconds to melt completely.
When the soap is completely melted, stir in 2 tablespoons of pumpkin pie spice and a few drops of red and yellow soap colorant. NOTE: these are soap colorants, not food coloring. While they change the color of the soap, the coloring will not wash off on your skin. You can add your own combination of red and yellow coloring to get the shade you want.
Pour the melted soap into the soap mold, and allow to sit undisturbed until cool, which takes at least 30 minutes. Once the melted soap is cooled, simply remove it from the mold and enjoy.
Pumpkin Spice Scrub Recipes
For those who also want some refreshing exfoliation to go along with the fall-like smell of pumpkin spice, here are two pumpkin spice body recipes to try.
Pumpkin Spice Coffee Body Scrub
What you'll need:
¼ cup pureed pumpkin
¼ cup brown sugar
2 tbs. coffee grounds
1 tbs. honey
½ tsp. cinnamon
¼ tsp. ground cloves
Directions:
Melt the coconut oil so it is a liquid. Coconut oil usually melts at 78 degrees Fahrenheit. Submerging the jar in hot water will melt it if yours is still in solid form.
Thoroughly mix all the ingredients together in a sealable container.
Apply the scrub to your skin, but avoiding the face. Rinse the mixture off completely with warm water and pat dry.
Keep the unused portion of the scrub in the refrigerator until next use. The scrub can last two weeks.
Pumpkin Spice Latte Sugar Scrub
What you'll need:
1 1/2 cups brown sugar
1/2 cup granulated sugar
1 tbs. ground coffee
1 tsp. cinnamon
Directions:
Mix all your dry ingredients together in a large bowl.
In a smaller bowl, whisk together almond oil and vitamin E oil.
Pour the oil mixture into the sugar mixture and mix well.
Once mixed, enjoy! The scrub should be kept in an air-tight container after the first use.
These three recipes are simple and fast to make. They are great ways to usher in the fall season. At Bulk Apothecary, we have a wide selection of essential oils, raw ingredients, soap and candle making kits and more so you can celebrate the fall season in your own, unique way. What do you like most about fall? How do you like to celebrate fall?