V-Day Rose Essential Oil Soap– Valentine's Day is coming up, so get prepared for the season of love by creating some homemade soaps! The recipe below can easily be altered, depending on the scent you want and the mold you want to use. Bulk Apothecary has fantastic heart and rose-shaped molds that are great for the holiday. These are great for spicing up the shower/bath with a little added romance, or packaging them up to give to friends and family as a Valentine! They are useful and easily customizable! Get creative! 🙂
How to get started:
Buy a melt and pour soap.
Your melt and pour soap can be one of many. All of Bulk Apothecary's melt and pour soaps are different. Low sweat refers to the way the final product reacts in water. Organic means that all of the ingredients are certified organic. All-natural is free of harmful added chemicals.
You can choose your color, decide between glycerin, oatmeal or olive oil bases. The possibilities are endless. I recommend if you're creating soap for the first time, start with an SFIC clear glycerin. It is a basic base that will be easy to work with.
Furthermore, if you want a wonderful natural coloring that will absorb the essential flavoring, I recommend the shea butter base.
Once you have your melt and pour base picked out, you will need either miter box or soap cutter, or you can get one of the square/rectangle trays.
Other ingredients: 
2-3 Drops 

Rose Absolute 3% Dilution Essential Oil

. You can substitute with other oils use 

peppermint oil

 if you have some leftover from the holidays. The mint flavoring smells great on the skin, year-round! You can also just use a simple Rose fragrance oil if you want a stronger scent and you aren't looking for the added benefits of essential oil.

Heart/Rose Soap Mold

— there are a variety of molds available that fit into a Valentine's theme. If you want to make a bunch of tiny heart soaps, you can also use those heart ice trays they sell at the grocery store. Those make wonderful, small soaps that can be put in a basket for the perfect Valentine.

Soap Colorants

 (Optional)– Add these if you want your soap to be a specific color. The red hues look great for this recipe!
Steps: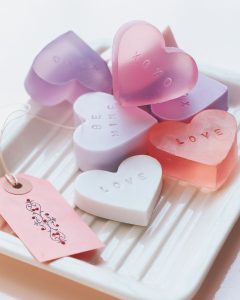 1. Cut melt and pour base into small cubes. Place in microwave-safe bowl and heat for 30 seconds. Mix base, heat for another 30 seconds.
2. Once melted, add approximately 2-3 drops of rose essential oil.
Note: This is the step where you would add colors if you wanted something more vibrant. Add a pink, a red, or split the base into two containers. Add white colorant to one, and red to another. Then mix together for the swirl effect. Just be familiar with mixing so it doesn't turn out muddy color. You can also skip the colorant to give the soap a simple, natural coloring.
3. Pour soap into Valentine's mold.
Note: Spray the top of the soap with rubbing alcohol to reduce bubbling.
4. Let sit for 3 hours.
Note: some people put the soap into the freezer to harden.
Now your V-Day Rose Essential Oil Soap is ready to use! It's very simple to create your own soap, and you will find that you can get incredibly creative over time.
Tips and Tricks
More advanced soap makers can add two colorants, and swirl for a wonderful swirling effect that looks GREAT with your other Valentine's decorations. As stated above, if you want the entire soap to be all-natural, skip the colorants. It won't be as vibrant, but it will be all-natural and still have some coloring. The shea butter soap base has a great natural coloring and looks wonderful when mixed with things like cocoa powder. Either way, this soap will put you in the mood when you lather up in the mornings, or simply add a special holiday touch to your kitchen or bathroom!
**Due to the ingredients, the soap has a shorter shelf life. You will notice the product loses much of it's scent after about 5 months or so. Be sure to get use out of it before the holidays are over!? 🙂
---
Let us know if you try out this recipe or any others from our blog!
Looking for the best soap making supplies? Check out our website for melt and pour bases, molds, fragrance oils, butters, waxes, and more!
Bulk Apothecary is the best supplier of all things soap making! 
Bulk Apothecary makes no claims of "expert status" and the company will not be liable for any losses, injuries, or damages from the use of the information found on this website.
As with all products, users should test a small amount prior to normal extended use. If pregnant or suffering from illness, consult a doctor before use.