Herb infused olive oil is getting more popular by the day. Rightfully so… it's beautiful, right?! I love using olive oil on everything (salads, bread, you name it!) so I thought why not make it myself!
You can make this simple, beautiful recipe with any herb you'd like to. For mine, I chose rosemary (you could also use garlic, lemon, thyme, pretty much anything your heart desires). I love the way the sprigs of the herb look in the olive oil- just be sure to use a clear bottle to display it!
You can find infused oils in various stores, but it really is quite easy to make yourself and saves quite a bit!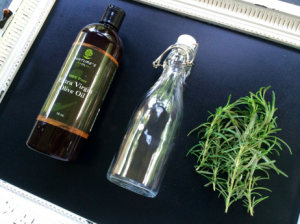 Ingredients:
Start by gently bruising the rosemary leaves. Using the back of a spoon, press firmly on each leaf. By bruising the herd, it allows the flavor and fragrance to be released when infusing. This also makes your kitchen smell divine!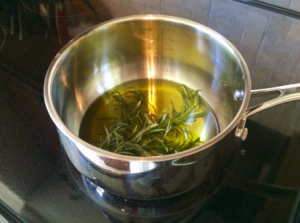 Next, place the olive oil and rosemary in a small saucepan and warm over low heat for about 5 minutes. If you're using a thermometer you want the oil temperature to reach 180° F.
Cool the oil and herbs for two hours. Transfer the rosemary sprigs into the bottle and carefully pour in the oil. Refrigerate and use for 1 month. Now you'll have herb-infused olive oil that will last plenty of dinner parties or a meal with the fam!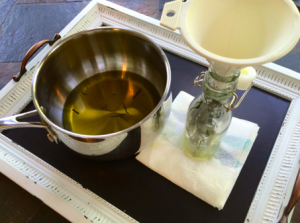 So easy to make and tastes great!
And it makes a great gift by just using a piece of twine and gift tag!
If you have any ideas you'd like to share feel free to comment below with your thoughts!