Have Yourself A Sustainable, Little Christmas!
Sustainable Christmas Decorations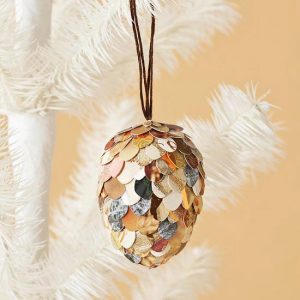 Why Decorate Sustainably?
In this time of consume, consume, consume, a great idea to minimize your carbon footprint this Christmas is to decorate in an eco-friendly, sustainable way. 
Plus, it just so happens to be super aesthetically pleasing and trendy. 
It's basically a win-win. 
We've complied some our favorite sustainable and eco-friendly ideas for your holiday decor and hope you find them as helpful as we do!
Christmas Wreath
The first step should be obvious: you want to go out and get a REAL, live wreath made of real firs and needles. 
Then, you can decorate it with dried botanicals. 
We recommend using cinnamon sticks, oranges, star anise or flowers, pine cones, and berries! These are all great options that make the wreath smell even more like the holiday season and make an impact ecologically, too!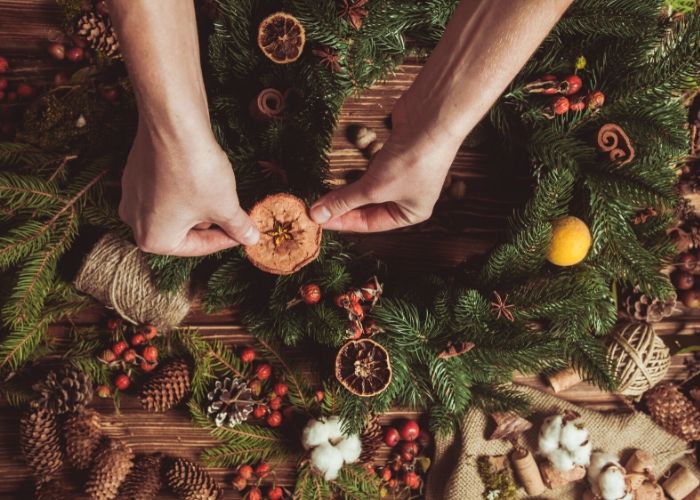 We especially love that everything about it can be "thrown away" without adding to the landfills. If you store it properly, you could even use it the following year as well! 
If you don't want to dry out the orange slices yourself or go find berries, star flowers, pinecones, and cinnamon sticks we even sell them on our website on the links provided!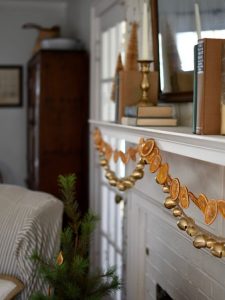 Orange Slice Garland
One of the best ways to mix making your own decor and sustainability is to create garlands with dried orange slices! 
Not only do these last for years, making them super sustainable, but they're also all natural and can be made with things you already have. 
We love the different looks you can achieve with these and how classy they look, too! Who would have thought?
Inspired by the one in this photo, we made our own combinations to give you a few ideas of what you could do with our botanicals to make garlands this holidauy season! 
Pine cones, putka pods, berries, cedar tips, and more!
Pine and Orange Garland
Not only is this garland super rustic and chic it also smells like Citrus and Pine! 
Simply add orange slices onto a strand of twine (you can make a hole with a pair of scissors like I did) and then either glue or tie pinecones to your twine.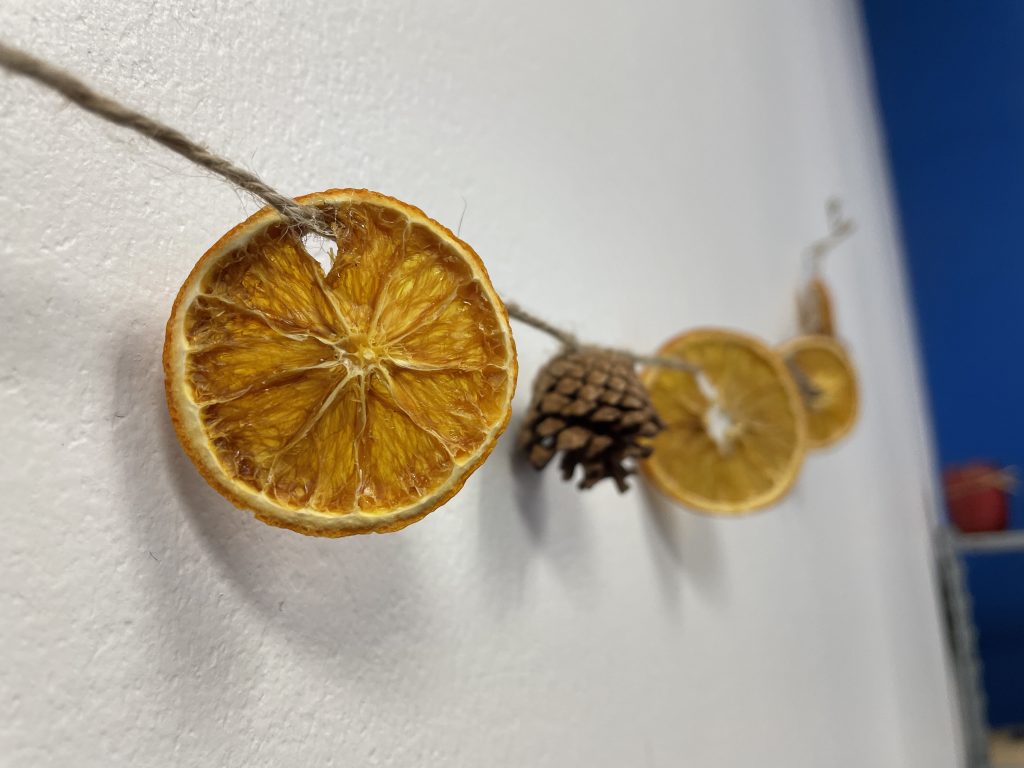 I think it looks cool alternating but you don't have to! 
I used our dried orange slices and jack pine cones to make this one with some twine from Michael's. 
The creativity is yours, though! You can use your favorite ribbon, a string and some clothespins, or do as many patterns as you want!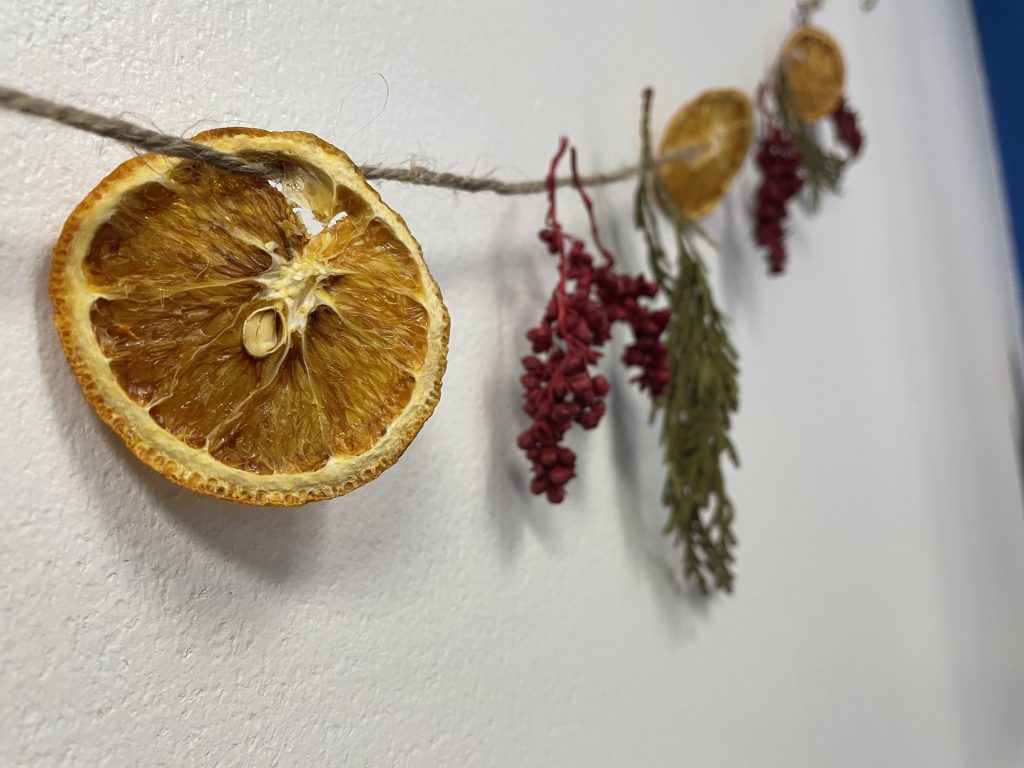 Oranges, Milo Berries, and Cedar Tip Garland
This is probably our favorite of the three types we made! 
We love all the different colors while still remaining holiday themed. They're all natural ingredients, too. 
Our favorite part of these garlands is probably that you can keep the extras you don't use from the order on hand and fix up the garland each year! A few berries fall off? Replace them! The cedar tips splinter a little? Replace them!
Sustainability can be so beautiful and this is the perfect example! 
Orange and Red Putka Pod Garland
The best part of this garland is that they look like cranberries and oranges!
The beautiful colors are perfect for the holidays and create a lovely ambience. This particular garland would be perfect for under the mantle, over the fire!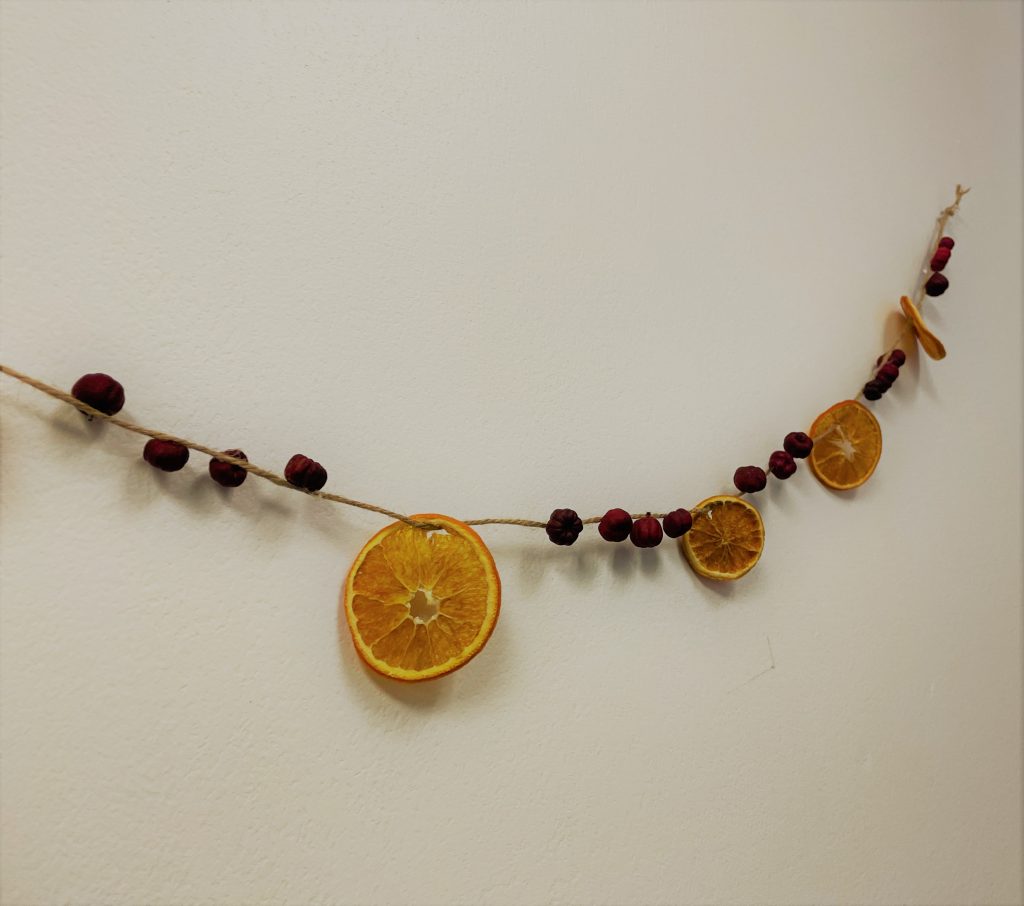 We glued the putka pods onto the twine but there are other options if you don't want to use hot glue to create your decor! 
You can always drill a hole through, too! 
This one is also something that will last for many years to come as it can be stored and pulled out again! 
Polaroids
Rule 1 of sustainability is to use what you already have first. 
This "craft" is perfect for that. All you have to do is take a clothespin and a Polaroid you've taken of family, friends, pets, etc. and pin it to the tree! 
We love the vintage look and the cool vibe that it gives the Christmas tree, too. 
Plus, you could always use some scrapbooking paper to put behind the photo to give it an even more Christmas-y feel.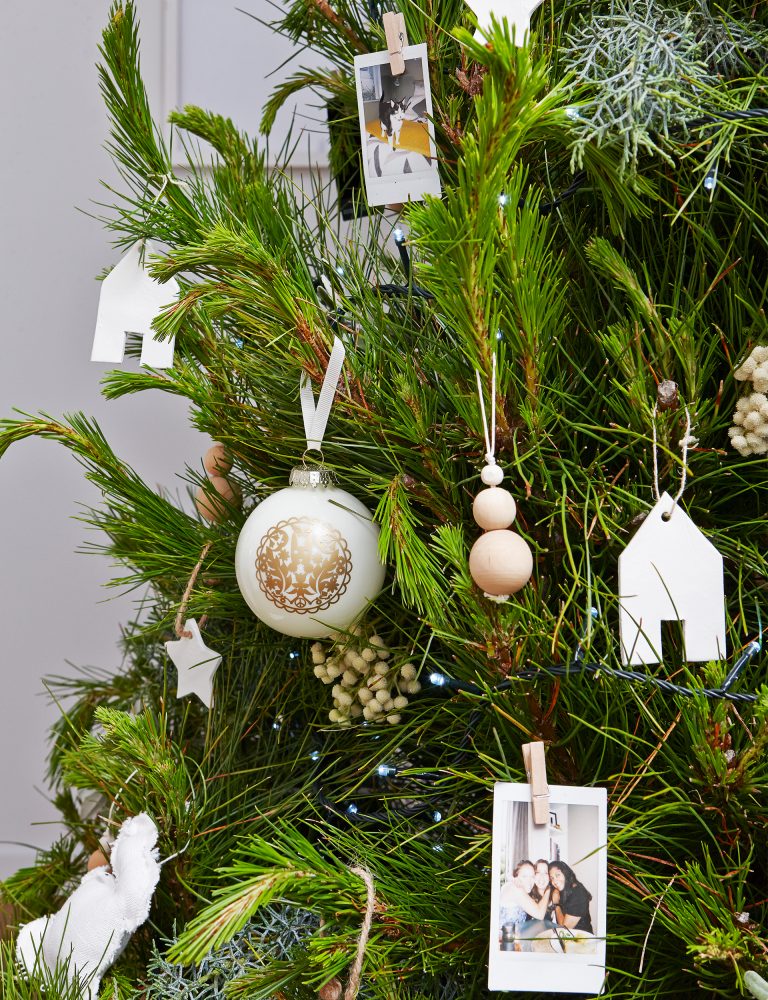 To add to the sustainability aspect, you could also switch out that scrapbooking paper for newspaper or swap it out each season to transform it into new decor!
So many possibilities!
It's a great way to not only use what you already have but also to include memories and important people and pets in your life into your holiday celebrations!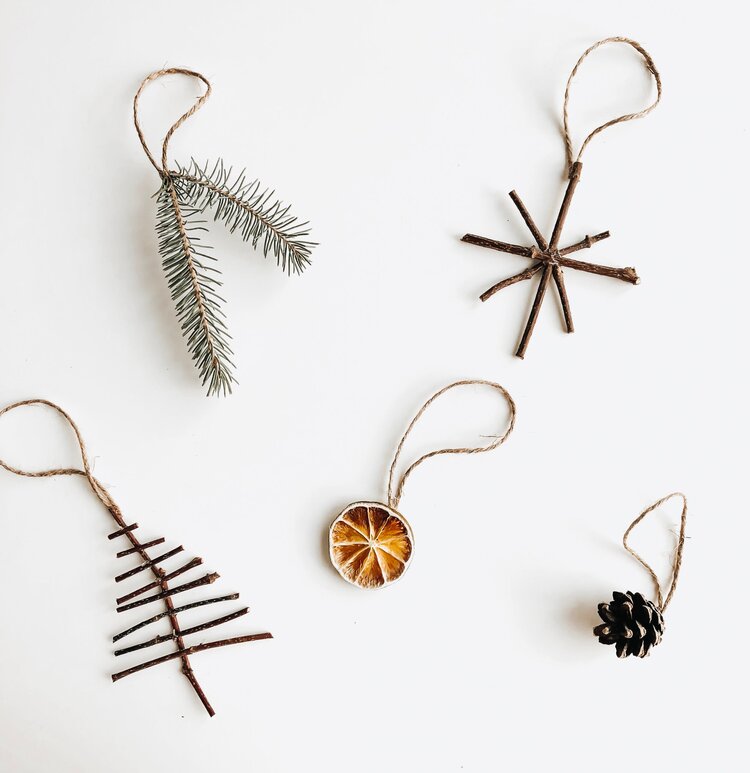 Natural Ornaments
Grab some twine and your leftover orange slices from the earlier craft we mentioned to get started here! 
We love how these look and think they look just gorgeous on a tree. 
Because one of our favorite wreath looks is dried orange slices with pinecones, we can imagine how good these look on a tree, too!!
You can go for a nature walk in your area to find some good pinecones and pine firs or we sell some different pinecones and cedar tips on our site you can get too, or our dried orange slices, too. We already did the nature walk 😉
Grab your hot glue gun, your favorite botanicals, some twine, and go have some fun with it.
Look through our Dried Botanicals site for some more possibilities to put on your tree or on your mantlepiece, too!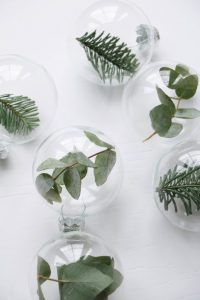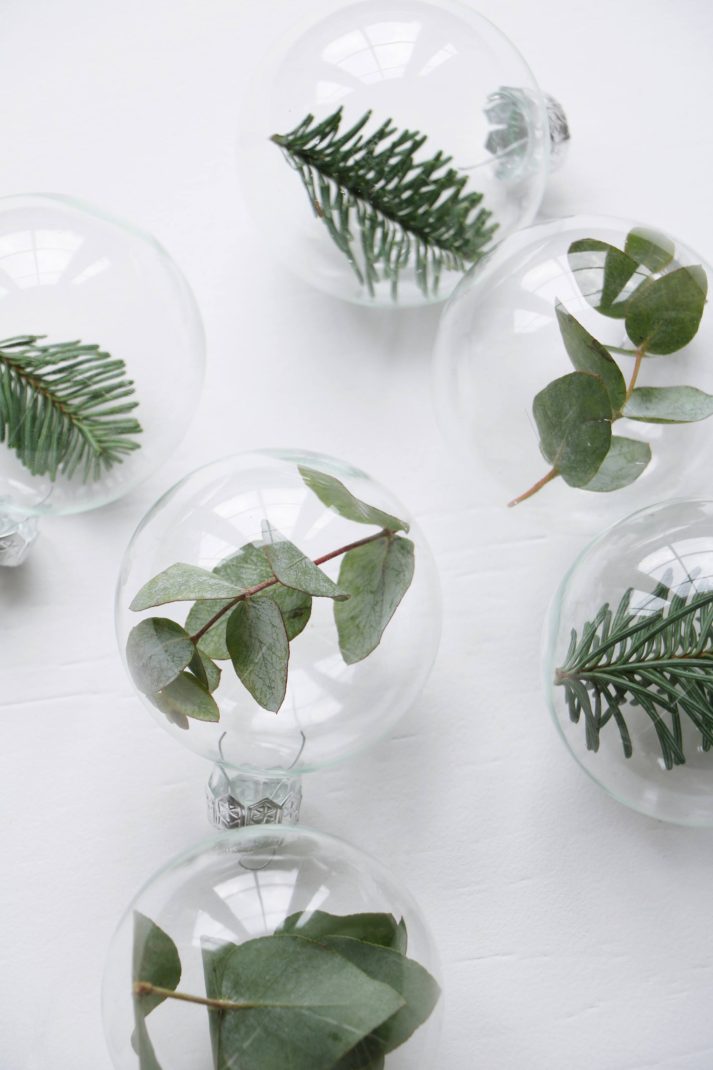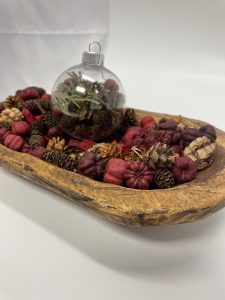 Natural Ornament Fillers
The coolest part about Christmas trees, in our humble opinion, is that your mom keeps ornaments from when you're an infant or your grandparents still have the one your dad made in second grade. 
So when we look at this idea, we get so excited, because not only is it a beautiful ornament, but it also will last for years and years to come!
We bought our ornaments at Michael's and filled them with our dried botanicals; specifically, we used our red putka pods, cedar tips, and birch cones! 
It was a really fun project and we hope you make some for your friends and family as a gift or as a great, sustainable Christmas tree ornament option. 
Dried Lavender Bundle
Lavender is, hands down, one of the best scents in the world. 
So what better than to use it to decorate AND scent your house for the holidays?? It's perfect for if you're hosting friends and family and want your house to smell nice and look aesthetically pleasing too! 
You can get dried lavender bundles, which still carry a scent, on our website or you can probably find fresh ones at your local farmer's market. If you want our advice though the fresh bundles might be a little too fragrant for a home environment.
Let us know if you make this craft or any others from our blog!
Looking for the best crafting supplies? Check out our website for the best rustic, boho, or botanical supplies for your crafting and so, so much more.
Bulk Apothecary makes no claims of "expert status" and the company will not be liable for any losses, injuries, or damages from the use of the information found on this website.
As with all products, users should test a small amount prior to normal extended use. If pregnant or suffering from illness, consult a doctor before use.