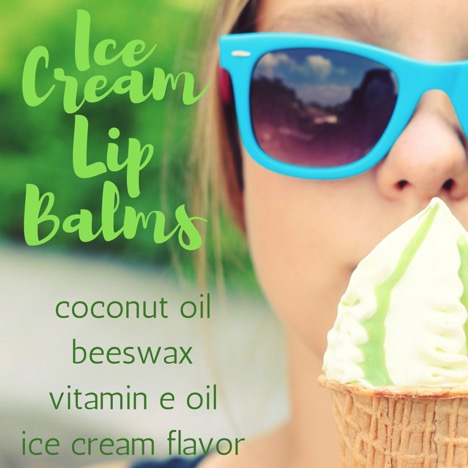 "I scream, you scream, we all scream for ice cream!"
Even our lips…
Summertime is the perfect time for ice cream! This lip balm is a sweet little treat that will satisfy your craving (without the calories) and nourish those dry, summer lips. Toss one in your purse, in your beach bag, in the diaper bag…just keep one everywhere because you won't want to be without it.
This recipe makes a bunch so be sure to share!
You'll need:
¾ cup + 2 TBS Coconut Oil
¼ cup + 1 TBS Beeswax
½ tsp Vitamin E Oil
Empty Lip Balm Tubes (recipe will make 50 tubes)
Step 1: Prepare the tubes for filling by flipping the filling tray over and pressing the tubes into the openings to secure them. Once all of the tubes have been secured, flip the tray over for filling. Place the filling tray on a paper towel just in case pouring gets messy!
Step 2: Combine the coconut oil and beeswax in a microwave-safe bowl. (Tip: use a spouted measuring cup for easy pouring!). Heat the ingredients in the microwave using 30 second intervals and stirring in between until you have a smooth, clear liquid.
Step 3: Remove the melted mixture and stir in the flavor oil and vitamin E. Start with a teaspoon of the flavor oil and work up until you reach your desired flavor. To test: place a small amount on your finger tip, allow it to cool and then rub it over your lips. If you don't taste anything, or feel it needs to be stronger, add more flavor oil and test again. I used 2 teaspoons.
Step 4: Carefully pour the flavored mixture into each tube. There's a lip around the border of the filling tray so you can be a little messy and it won't spill over.
Step 5: Once cool and solidified, scrape the top of the tray to remove the excess lip balm. This will create a smooth surface over the top of each tube.
Step 6: Remove the tubes from the tray and place a cap on each one.
ENJOY!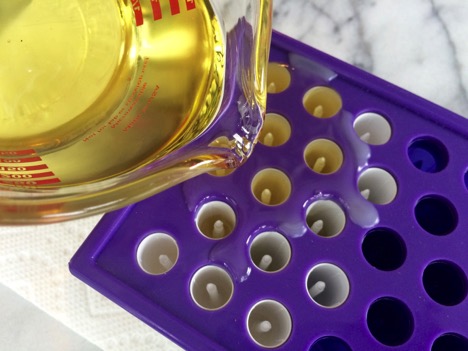 Ice Cream Lip Balm Recipe