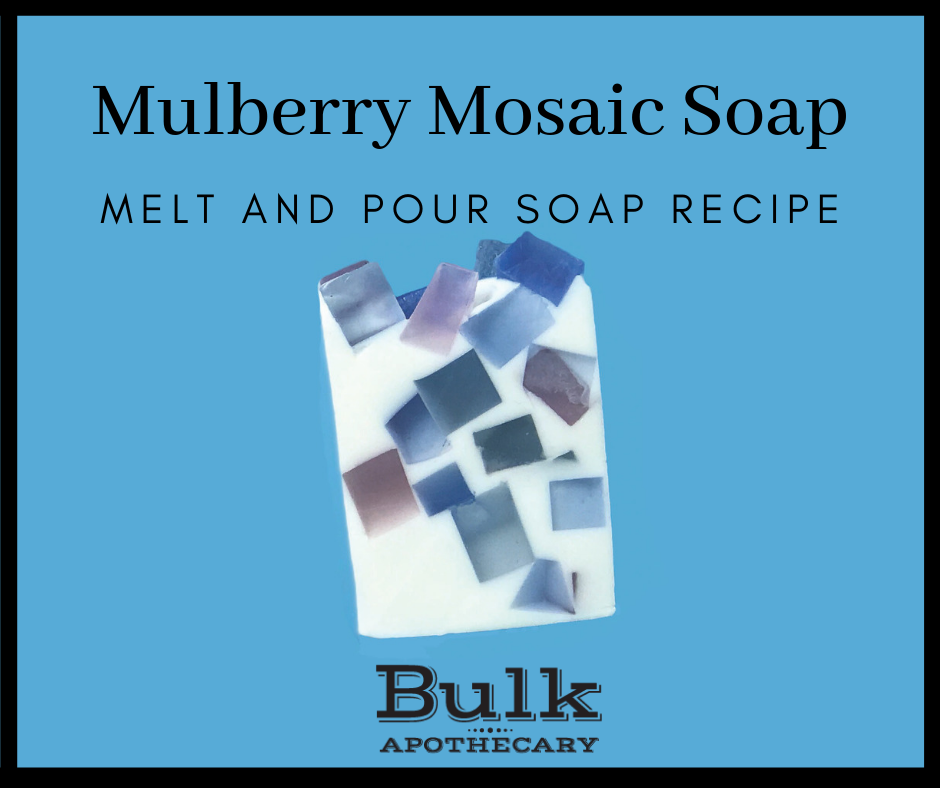 Introduction
What a blizzard we faced here in the Midwest! Cleveland, Ohio saw snow accumulations of upwards of 18 inches! Thankfully, it occurred over the weekend so many of us were able to hunker down at home with the ones we love.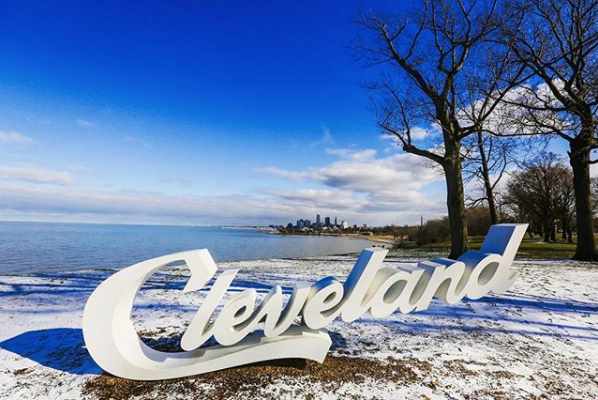 The calm before the storm, Lake Erie, Cleveland Ohio
The blizzard conditions were a real bummer and then when the sun rose this morning, it dawned on me – those blustery conditions gave us a beautiful blanket of snow upon the grass, trees, buildings; everything. If you live in an area that gets snowfall, you may be familiar with the quiet still of winter. When I walked outside, it was so peacefully quiet. After the storm, we woke up to the most gorgeous sunrise.
This soap was inspired by the beauty of winter – the white snow, the painted skies, and the scent of sweet Mulberry. The mosaic effect gives the soap such unique character and no bar will be the same! Following this recipe could also help you utilize soap odds and ends from previous batches. I love this technique because it also allows me to use up soap scraps that would otherwise be tossed to the side.
Here's What You'll Need:
1 Ultramarine Blue Color Block
1 Ultramarine Violet Color Block
1 Tall Silicone Loaf Soap Mold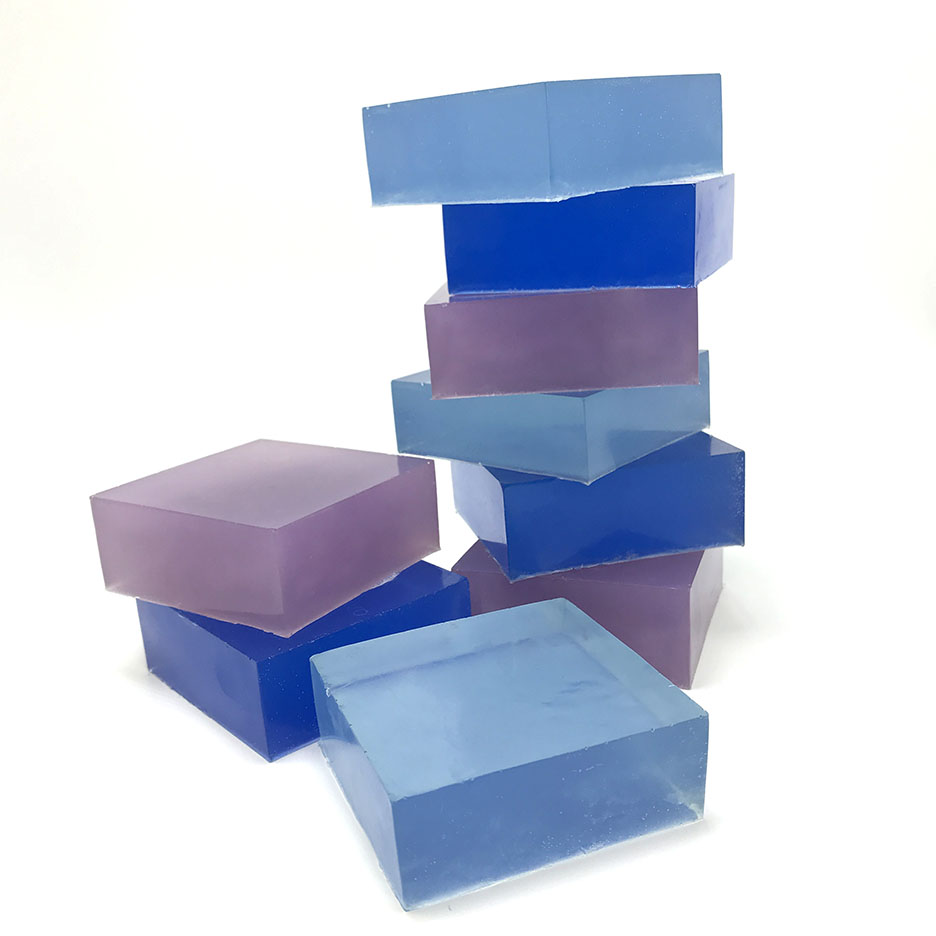 Additional Supplies
Spray bottle with rubbing alcohol, kitchen knife or soap cutter, cutting board, heat-resistant plastic or glass container(s), spoon (disposable is fine)
Let's Get Started
This recipe requires a little bit of prep work. Begin by using a kitchen knife or soap cutter and dice the soap into small chunks for easier melting. I cut up both 1 lb. blocks of SFIC clear soap base and divided it evenly into thirds. You don't have to be precise – just eyeball it. Place into separate containers and use small slivers of each color block until you reach the hue you desire. I wanted to do blues with a hint of purple, so I used just a tiny bit of the Ultramarine Violet color block for that portion. The other two colors were both achieved by using different amounts of the Ultramarine Blue color block. Once the color is added to the container, begin melting each soap in 30-second increments, stirring in between. This requires a little patience, so you might want to stake out a stool to sit by the microwave!
Tip: I also cut up the white soap base at the same time in order to save time later on. It's actually a great idea to have cut up soap base on hand by storing it in gallon ziplock bags. All you have to do then is weigh out the amount you need for your recipe!
To make things easier, I used our Silicone Square soap mold because it has individual cavities. You can fragrance the soaps with a little bit of the Mulberry scent, but I used most of the fragrance in the white soap base. Allow the bars to cool for at least 6 hours before unmolding.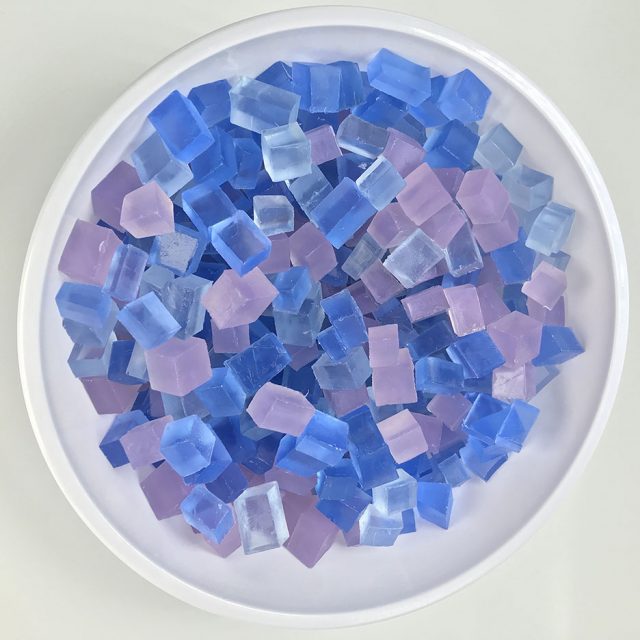 Chop each bar soap into small to medium sized chunks. They don't have to be perfect! Different shapes give really cool dimension once the soap loaf is unmolded and cut. I tossed all of the soap chunks into a bowl and set it aside.
Time to Pour
Pour the melted, fragranced white soap base into the loaf mold. You know the drill – a quick spritz with alcohol to eliminate bubbles that form on the surface. Once rid of bubbles, it is not necessary to let a film develop on top of the soap before proceeding. Go ahead and start grabbing handfuls of colored soap chunks and distribute throughout the mold. Carefully give the mold a few taps on your working surface to help eliminate bubbles that have now formed within the soap due to the air pockets created by depositing the soap chunks. I wanted to achieve a textured top for this soap loaf so I did my best to ensure all white areas on the top of the soap had a colored chunk inserted into it.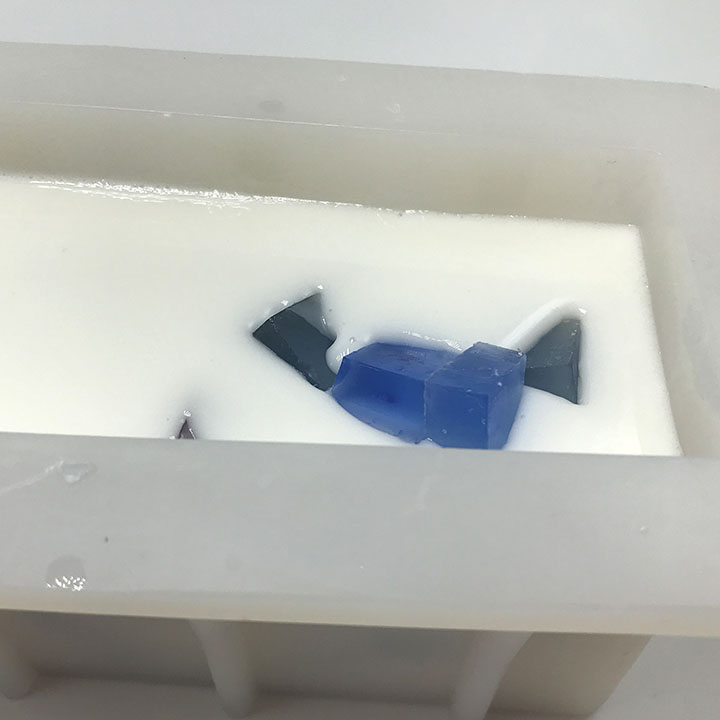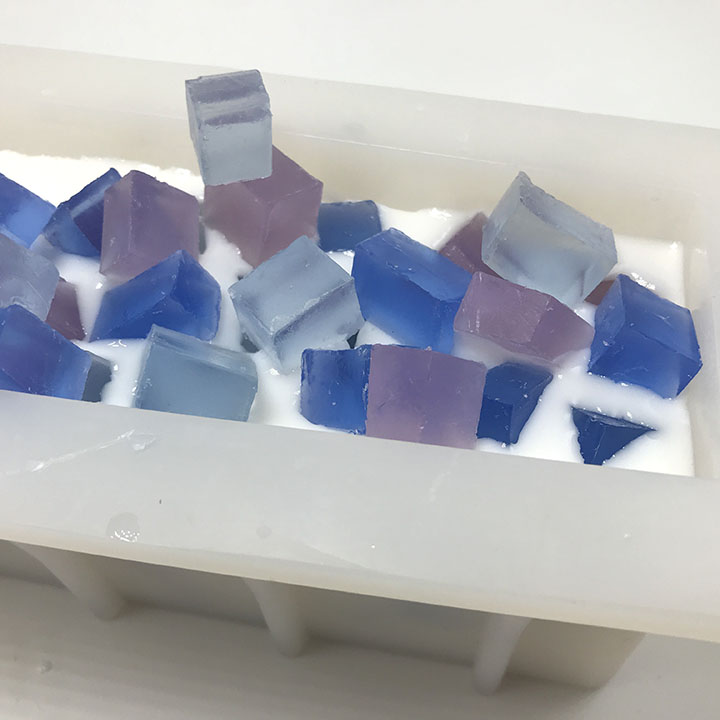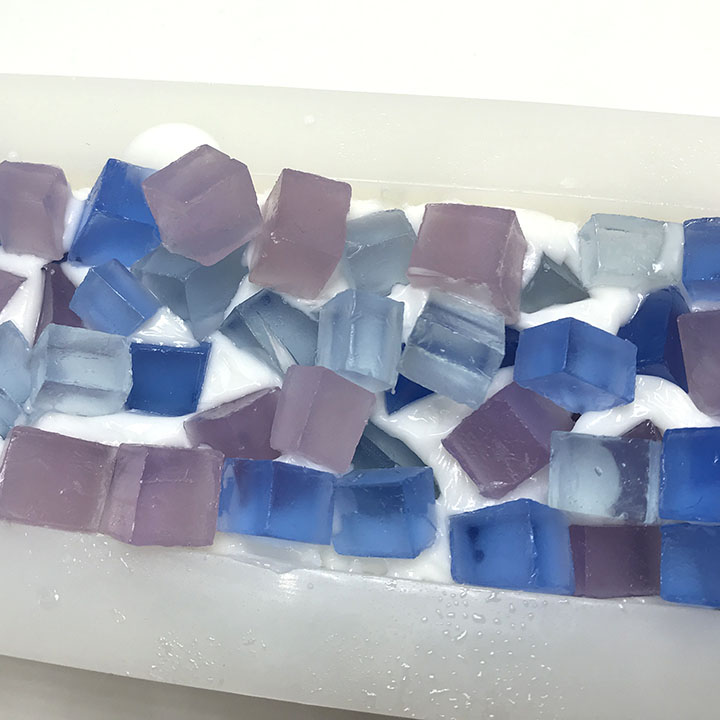 In Conclusion
I love the way this soap turned out! I let it sit overnight to be extra cautious and to allow the soap to completely cool. This will yield approximately 10 1-inch bars of soap.
The sweet elements of the Mulberry fragrance oil add a unique character to the soap – the colors used in this recipe evoke feelings of cool and calm. We absolutely love this soap here at Bulk and we hope you do, too!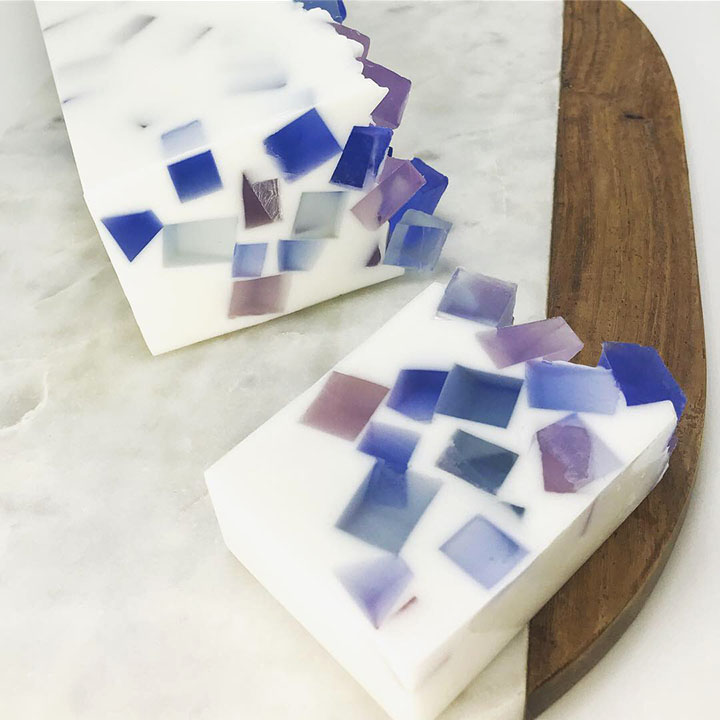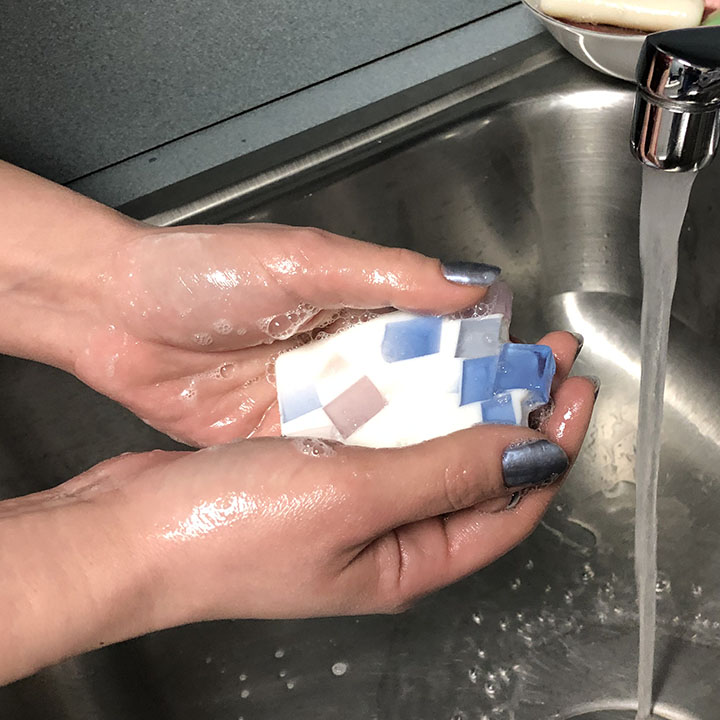 This soap looks even cooler when i is in use – the water really makes the colors pop! SFIC makes fantastic soap bases and this is no exception. Providing a gentle, stable lather, this is sure to be a crowd pleaser!
What has nature inspired YOU to create? Let us know in the comments below!