Easter is upon us! This year why not change it up a bit and fill your baskets with a little less candy and a little more homemade goodness? These adorable carrot bath soaks are simple and fun and add a great pop of color to your holiday gifts! Your kids will love bath time in a tub full of colorful water and fruity fragrance!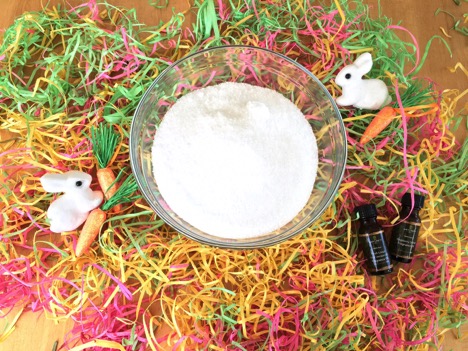 You'll need: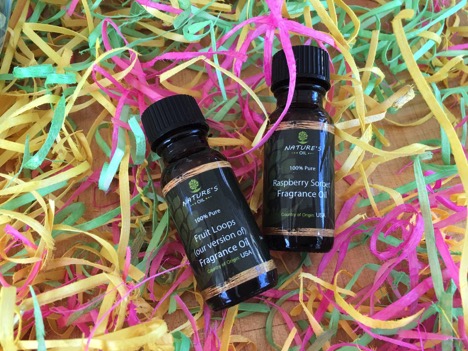 Since this bath soak is geared towards kids, I used fresh, fruity fragrances to compliment the bright orange color. You can use one oil or a mixture of two for a wonderful scented bath!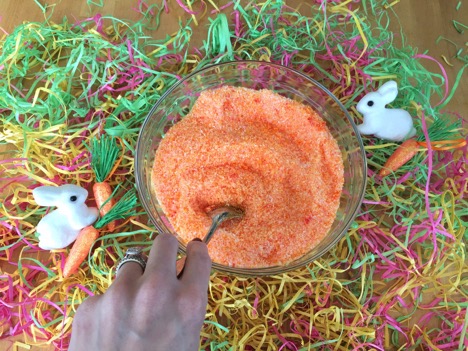 To 3 cups of Epsom salt, I blended in a pinch of red mica powder and a pinch of yellow mica powder to make a nice orange. You can add as you go until you reach your perfect orange color. For bath soaks, stick to mica powders or liquid soap colors for the best results.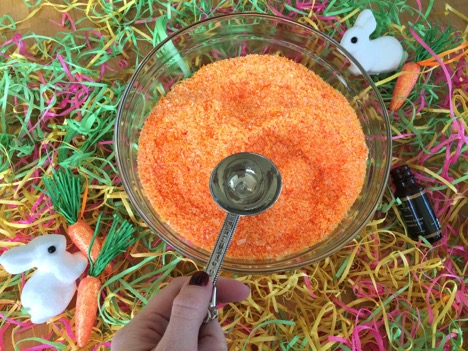 Next, stir in your fragrance. I used 1 TBS of each of the fragrance oils pictured above and the result smells fantastic! So fruity and tropical!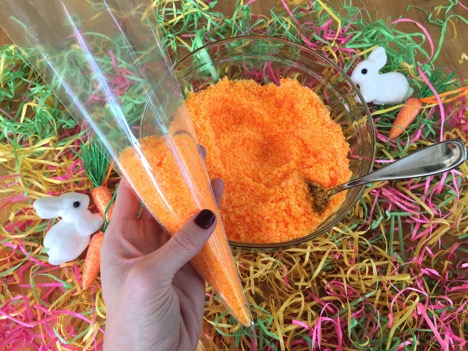 To package up your bath soaks, simply fill each cone bag leaving roughly 2 inches of space at the top..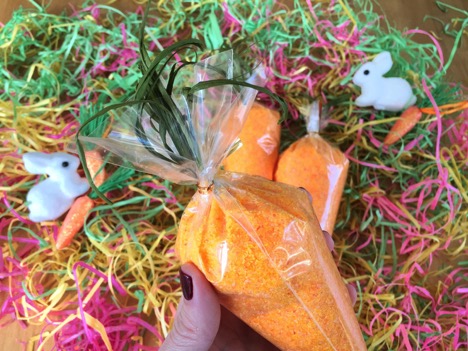 Tuck several pieces of the green raffia ribbon (long enough to stick out of the top of each bag) into the top of each bag and tightly secure with a piece of ribbon or a twist tie.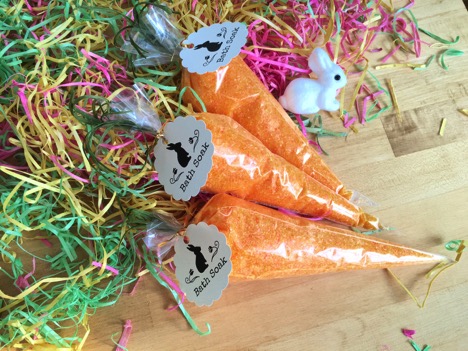 Add a cute gift tag and you're done!
How easy was that?!
To use: Add ½ of the contents of each bath soak to warm water and enjoy!
Happy Easter!
Don't miss out on other creative DIY recipes, and ore ideas for soap making, bath soaks, and more.