Holiday Wax Melts- Christmas Tree Edition (feat. our upcoming Mica Powders)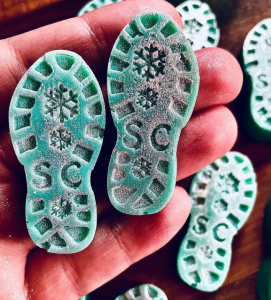 You Guys Inspire Us!
We follow so many of our customers on Instagram and see them create such amazing things every single day. 
You guys inspire us to make cooler content daily and this is a great example!
One of us saw some creatively shaped wax melts on Instagram, Santa Claus' footprints in the snow from "@pippiemelts," and we had an idea! 
What if you used those chocolate/candy molds at every craft store but switched it up and made wax melts out of them?! 
So we tried it, just for you, to see if it worked. Okay, a little bit for the fun of it, too. 
What You'll Need
Golden or white wax, preferably soy wax
Fragrance Oils (We used Christmas Splendor from our Winter Collection)
Mica Powder (for color)
Silicone chocolate or candy mold from craft store
1-5 cup Measuring Cup/Bowl and spatula
Heat source (wax melter, candle wax heater, microwave, stove, etc.)
Wax warmer
Temperature Gauge (optional)
Procedure:
Measure out two cups of soy wax in your measuring cup.
Heat in microwave or on alternate heating store until clear (for microwave, stir every two minutes or it will burn the bottom of the measuring cup, make sure you're heating in microwave safe dish)
Let wax cool slightly and add fragrance oil (see Suggested Usage Rates on IFRA document attached to the Fragrance Oil's individual page)
Add Mica powder or candle coloring dye (Our Mica powders are coming January of 2022)
Stir until evenly combined. 
Pour into molds of choice carefully. Avoid getting wax outside of individual sections. 
Allow to set in cool and dry place
Carefully remove from molds and store in cool, dry place until ready for use. 
What We Did:
We used Christmas Tree Molds from Michael's (intended for candies) and created Christmas wax melts shaped like Christmas trees. They're scented with our Christmas Splendor Nature's Oil scent from our Winter Collection. 
We tried two different amounts of Mica powder to see which ones we preferred. 
We would say it takes about a teaspoon for the Mica to truly tint the wax enough to make a strongly colored wax melt. 
Our results are below! 
We are just now getting our mica powders in so we haven't worked with them too much. 
I recommend putting as much as you're comfortable with using into the wax, putting those in the molds, and letting them set. Then, if they're not pigmented enough, I melted them all again the same way and added more micas. The second time around they looked SO much better and there was no issue with melting the wax again. 
Never be afraid to try again!
Tag us in your own creations on our Social Media! We're @bulkapothecary on Instagram and @BApothecary on Facebook! 
Let us know if you try out this recipe or any others from our blog!

Looking for the best candle making supplies? Check out our website for candle wax, molds, wicks, fragrance oils, jars, and more!
Bulk Apothecary is the best supplier of all things candle making!
Bulk Apothecary makes no claims of "expert status" and the company will not be liable for any losses, injuries, or damages from the use of the information found on this website.
As with all products, users should test a small amount prior to normal extended use. If pregnant or suffering from illness, consult a doctor before use.