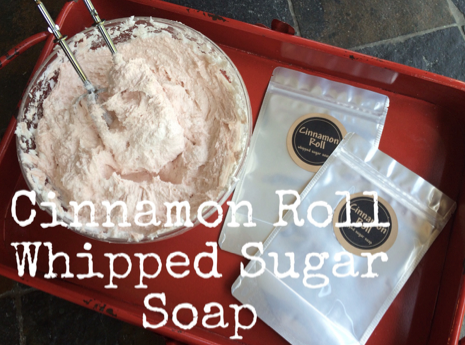 Mmm, mmm, mmm. Cinnamon Rolls.
Who doesn't like a warm, gooey cinnamon roll?! Am I right?
This recipe will wake you up just like they do at a cozy B&B- with the smell of fresh-baked cinnamon! With a little shea butter, some sugar, and a splash of vitamin e, you're skin with being gently polished to a silky shine after scrubbing up! Start your morning off in the sweetest way with this easy-peasy recipe!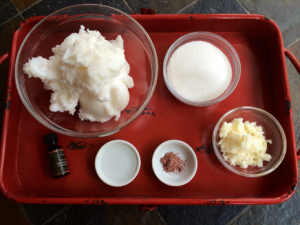 Here's what you'll need: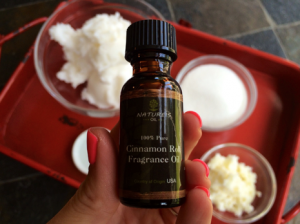 Get your hands on some of this ASAP! Soaps, scrubs, candles… it's perfect in just about anything. And as we say goodbye to summer and welcome in the fall season, it's a warm, delicious fragrance to fill your home with!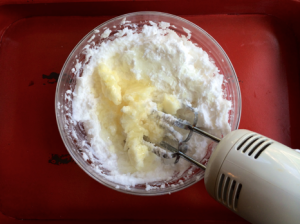 Using an electric mixer (stand or handheld), beat the soap base, shea butter, and vitamin e together using high speed. Use a large bowl to avoid flinging little soap bits everywhere (you've been warned!).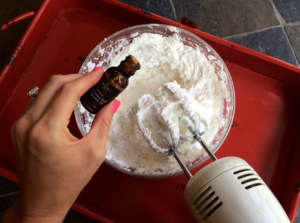 Add in the cinnamon roll fragrance oil. The foaming soap base has a strong soapy smell to it, so you may need a little more fragrance oil than you think. You can always start with a small amount and add more in as you assess, but I used about a tablespoon (I think).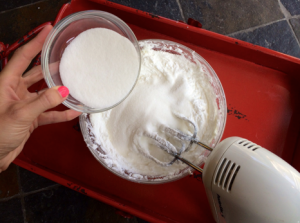 Now blend in the sugar. I kind of mashed it in with the beaters before turning the mixer on to avoid the sugar flying out everywhere, which seemed to work well.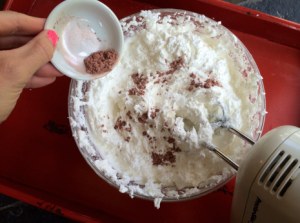 Since this recipe is so warm and sweet just like a real cinnamon roll, I wanted the color to represent this as well. Using just a sprinkle, I blended in the mica powder until my mixture had a light, sparkly cinnamon color to it. You can use more if you're looking to achieve a darker, bolder color.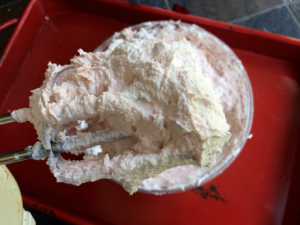 See! Just a pale hint of cinnamon. Like cinnamon frosting 🙂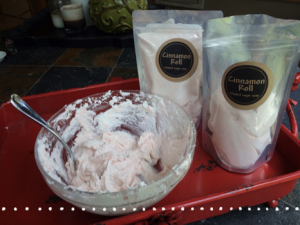 Scoop the mixture into lidded plastic jars or pouches with zip-lock closures. I used these silver and clear stand-up pouches, which I LOVE! I think they make homemade goods look so professional. To avoid getting the pouch all messy, I first scooped the soap mixture into a plastic bag and cut the tip (like a pastry bag) to easily squeeze the mixture into each pouch. To finish the look, I simply printed off a cute label sticker.
So easy, yet so wonderful!